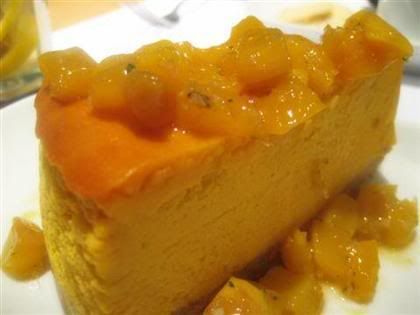 Mango Cheescake with Lemongrass Infused Mango Chutney (RM11.90)
Delicious Cafe, what else can be said about it as there are already numerous reviews on this place. Some like it, others don't. I have to admit I fall into the earlier category. Although their menu isn't what I would say original or exciting (I can't help but to feel it's mostly inspired by the likes of Donna Hay, Jamie Oliver and etc), it's still a safe bet when one craves for simple biswholesome. However, compared to their other salads, the serving size is rather small and may not be sufficient as a main.tro/cafe type food done well. Not to forget that their well-presented food photographs very well too.....
I usually go for their salads when I dine there simply because I love salads and it's so hard to find good salads in KL/PJ.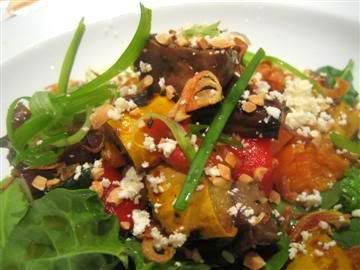 Roasted Vegetables Salad with Baby Spinach and Oriental Dressing (RM18.90)
If I am not mistaken, the Roasted Vegetable Salad with feta cheese is a recent addition. It was good; simple uncomplicated flavours that are wholesome at the same time. However, compared to their other salads, the serving size of this salad is a tad small and not really sufficient as a main.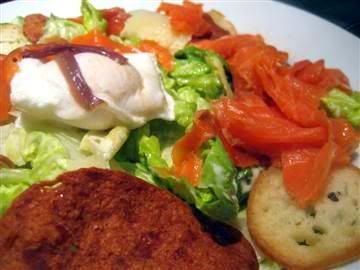 Smoked Salmon Caesar Salad with Anchovies, Turkey Bacon, Poached Egg and Parmesan (RM25.80
Their Caesar Salad is also one of the best this side of town, with the addition of turkey bacon and a perfectly poached egg (yummy!). The smoked salmon is optional and comes at an additional cost of RM6.90. Compared to the previous salad, this is so much more substantial as a main course.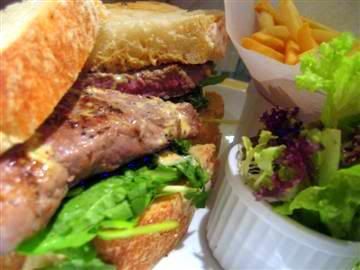 Sirloin Steak Sandwich with Onion Relish and Toasted Ciabatta (RM22.90)
This must be a guy's version of a light meal. I stole a bite and I have to say, it's also rather good. Done medium well, the steak was juicy and tasted good with the onion relish.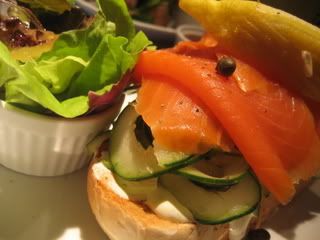 Smoked Salmon with Sour Cream and Capers on Toasted Multigrain (RM18.90)
This is more of "my kind" of sandwich. Smoked salmon with sour cream and capers. What's there not to like? But perhaps it might taste even better if served in a bagel.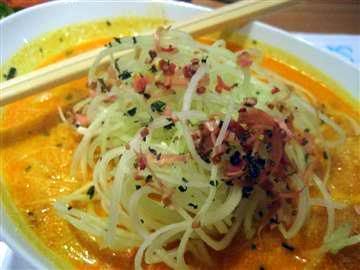 Nyonya Curry Laksa (RM16.90)
Their Asian fare is said to be pretty good too. This was what my friend ordered on one fine night. Except for the fact that it was a tad less than warm when it arrived, there's nothing else to complain. The broth was thick and creamy and fragrant with spices.
One of my favourite desserts at Delicious is undoubtedly their Mango Cheesecake (see pic above). And now, it comes in an 'improved' version whereby it is served with lemongrass scented mango chutney. Mmm..., mmm..., so good..., so good....!
Previous posts on Delicious Cafe here and here.
Delicious Cafe
Ground Floor, Bangsar Village II