I am without doubt, dessert's biggest fan. I am one of those people who can go without a main or proper meal and just have desserts as my meal. Not wise, I know. But old habits die hard...
Anyway, I decided to share some desserts that I have had recently. Some were fabulous while others may not be so good.
Stay posted!
Disclaimer: Photos may not be the best quality. All were taken with my Samsung handphone.

1)
One of my all-time favourite
Chocolate Cake
Found at the cake shop along
Asian Heritage Row.
I forgot the name of this but this one of their most popular cakes. Sounds something like Sacher Torte but I don't think this is the actual name. Anyway, this cake is so smooth and rich, and really melts in your mouth kind. No wonder since according to the shop, premium grade quality Belgian chocolate is used in this cake. A must try for all chocolate lovers!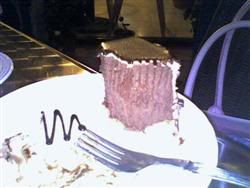 2) Mango Cheese Cake & Warm Chocolate Cake @ Delicious Cafe
Delicious Cafe is one of my recent favourite place for casual dining. Originally a fashion boutique (the first outlet is located at the back of their boutique in 1Utama), this restaurant has managed to become quite popular with patrons. Their outlets are usually rather crowded.
Back to desserts, the latter is their most popular cake and rightly so. This cake is very rich and decadent, a cross between a rich chocolate brownie cum flourless cake. Served with rich chocolate sauce and ice cream with sprinkles of nuts, how can one dislike this dessert (unless if you are a sworn chocolate hater). I like it too, but I wouldn't rank it among my 'all-time favourites'. I personally feel that the overall combination is slightly 'OTT' although delicious.
I much prefer the more subdued Mango Cheese Cake. The sour tang and sweet notes are rightly balanced. Cheesecakes are usually not a light dessert, but this comes across tasting like one. I like.....Enough to rank it as one of my favourite cheesecakes.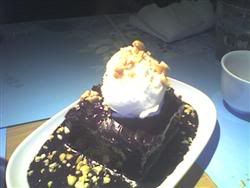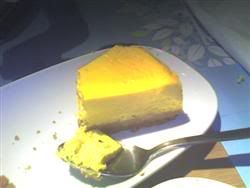 3) Bread & Butter Pudding @ Ceylon Hill Cafe
I was once told that all B&P lovers must try this dessert at this outlet. With a cache like that, how can I resist. But I was slightly disappointed. Maybe I was expecting to be truly overwhelmed. I find it to be a basic b&p (and they used simple white bread which is slightly dry, not pudding-infused enough) laddened with lots of sauce and a sprinkle of cocoa or cinnamon powder (I forgot which). It was 'ok' but I much prefer the cheap but very good 'no-frill B&P' served at the Ikea Cafe.
My own attempts are also comparable too...., but that is another story.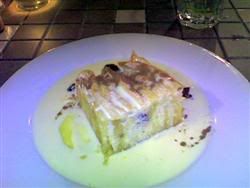 4) Strawberry Shortcake @ Bakerzin
I have been to Bakerzin quite a number of times. And almost each time, I will see hoards of Japanese ladies coming to the shop to buy this cake. Yes, according to the shop, this is one of their most sell-able cake in the store. Normally not a fan of fresh cream sponge cake. but I finally yielded to temptation to see what the fuss was all about. Well, I can understand the reason this cake is so popular with the ladies. The sponge cake is really soft and fluffy without being dry at all while the cream is as light and fresh as possible, accompanying succulent strawberries. Thumbs up!
5) Famous Afternoon Tea Scones @ Teapot Cafe
Ah..., the famed scones. Only available from 3pm onwards and in limited quantities only. These are very famous and that means I got to try, of course! I am no scone expert but I must say these are the best-tasting scones that I have had the chance to come across. Best taken with the accompanying devonshire clotted cream (thick and 'very rich') and strawberry jam, and of course a pot of English tea. What a blissful way to spend an afternoon....