I have a confession to make. I don't really fancy noodles & rice, but I make an exception when it comes to pan mee (also nicknamed Malaysian pasta). My favourite is the "mit" type (aka "tear-and-boil") and cooked in soup. I have tried a few of the so-called famous ones such as Kin Kin, Jalan Chow Kit, Taman Desa and SS19 in Subang Jaya and my personal favourite is the
SS19 one
.
Anyway, this place was introduced to me with the promise of a good pan mee. After trying their version, I have to say what is outstanding about them is their different variety noodles such as spinach and carrot (although you could hardly taste the difference but they sure are "eye candy").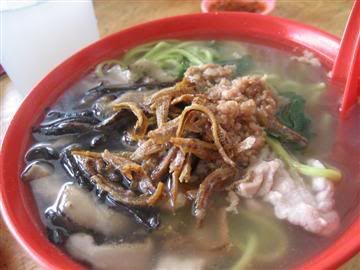 Spinach Pan Mee in soup
Having said that, their pan mee although not the best, is definitely above average. Reasonably good and tasty soup base, dough is chewy and not overly thick. Their dry versions are pretty tasty too as seen here.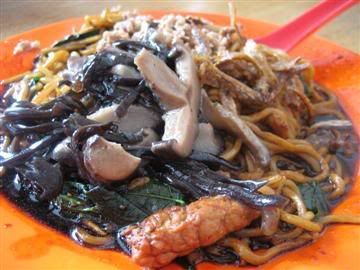 However, on occasions, they do not pass the "post-consumption thirst test".
This shop is also famous for the lor mee and that's what I tried this time. You can choose your own noodles such as pan mee, yee mee (I heard this version is good!) or mee suah (which I chose).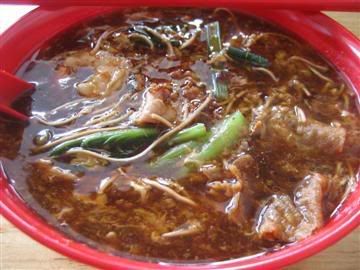 I generously slathered vinegar over the noodles. And with tons of sambal chilli (which I like), the dish turned out to be rather yummy. However, I would have preferred if the broth was thicker. Price was RM4.00.
But if you ask me, I think I prefer their pan mee.
Beside pan mee and lor mee, they also serve tom yum noodles (I heard this is good too), sizzling rice and grilled stuff.
This place is usually "full-house" during lunch time. Service is not the fastest so a wait for a table and another wait for the dishes to arrive are to be expected. However, the restaurant is clean and well-maintained enough.
Other review:
Masak-masak
Restoran Paramount Garden*
(same row as Restoran New Sea View)
*My colleagues call it "Xin Tian Di" in Chinese (???)