You know what they say about "
An apple a day...
."
(
Takes the doctor away).
If this is true, then you should have my
Light Apple Cake
. It has
one
apple on it! *grin*
This cake is another
easy & fast
recipe, provided that you use a cake mix. I personally like the Butter Cake Mix from Best23 and City Bakers baking supplies shop (for those staying in the Klang Valley).
Here's what you need to do:
Ingredients:
- 250g butter cake mix
- 125g butter, softened
- 25ml apple juice
- 1/4 cinnamon powder
- 1/2 tsp vanilla extract
- 2+1/2 eggs
Topping:
- One red apple, sliced thinly with skin intact but discard seeds
- Some demerara sugar + dark molasses sugar + cinnamon powder (or just use brown sugar)
Method:
Cream butter and cake mix until light and fluffy. Add eggs one by one and mix well. Add the rest of the ingredients and mix well.
Pour into greased and lined 7 inch square cake tin. Arrange sliced apples on top and sprinkle the sugar and cinnamon generously all over. Bake at 175-180c (pre-heated) for about 30-35 minutes (or until cake is done). Cool on rack.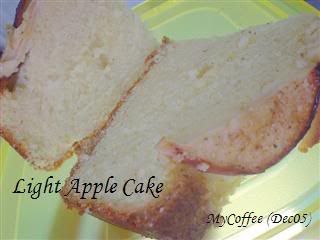 Light and fluffy inside