Well, I may have missed out some of the latest food blogging events such as
"Hay Hay It's Donna Day"
and the
2005 SHF/IMBB Cookie Swap
but like they say, "
better late than never..."
I think I must have been star-struck by the numerous utterly-delicious entries for both these events, to the point that I felt like I must give them a try too.
Ok, enough mumblings. Here are my "
delayed"
efforts:
Peanut Butter & Chocolate Self-Frosting Muffin
(based on recipe by Donna Hay; see link above for details and recipe)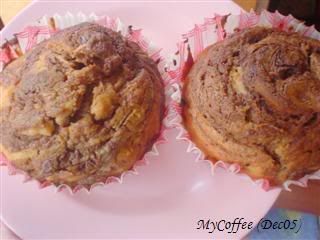 After reading so many raves, I have to see what the hype was all about. And I am glad that I did. These are so good, although I only got a quarter bite out of one muffin. Then again, this emphasizes how good the muffins were All gone before I can have another bite!
*grin*
I have no doubt that Nutella would be absolutely fantastic with these muffins but all I had was a jar of PB & Chocolate jam. But no regrets in using this though. I think I must have been overly generous with the PB for the entire top was almost covered by the jam (maybe I should have folded more of the muffin dough over the topping). When baked, it formed a crusty and sweet top (that is somewhat similar to those infamous "
Rotiboy"
buns, but only crustier) .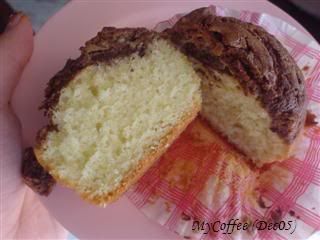 The
2005 SHF/IMBB Cookie Swap
reminded me that I have to start my Christmas cookies-baking soon. From the round-up of this event, there are tons of cookies recipe made available. Really useful for anyone looking for new recipes to try this Christmas.
For starters, I tried 2 recipes. One was
Honey Ginger Snaps
based on the recipe
from Esurientes
, and the other is
Custard Crunch Cookies
from
Gina of Kitchen Capers
.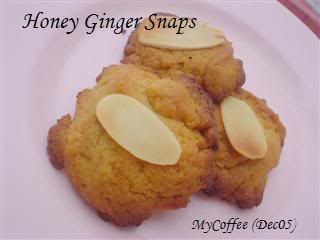 Honey Ginger Snaps
For the former, mine was a far cry from the
original
. I expected them to be crispy but they had a chewy center. Could be due to under-baking since I have a phobia of over-baking cookies in my notorious oven
(see previous posts if you wonder why).
But I still think they are good! The sweetness of honey is nicely balanced with a slight tinge of peppery ginger. Would make this again, and this time will make them thinner so that they are crispier.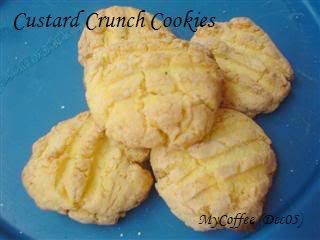 Custard Crunch Cookies
For the latter, no fats are listed in the recipe. These cookies came out being quite hard-to-crunch but somehow, I got addicted to them. They could be a taxing on the jaw but I kind of enjoyed the crunchy effect. And the taste was very nice as well. Next, I would have to learn how to lessen the "hard crunch" effect.