That's right. This year I have been put in-charge of my family's Christmas dinner which we have decided to hold it on Christmas eve. I have to admit it took me a while to finalise on the menu for the night. There were many recipes which I considered but then in the end, I have to find the ones that sound yummy, but not too task-demanding. After all, except for baking, I am relatively alien to the kitchen in terms of cooking...
After 2 weeks of recipe contemplation, 2 hours of ingredient shopping, 4 hours of preparation in the kitchen prior to dinner (
with the help of 2 maids and my good ol' sister who arrived early for the dinner
), here are my (
ahem
) pride and glory:
Starters:
1. Prawn Salad (this is contributed by my niece. Simple & nice, go girl!)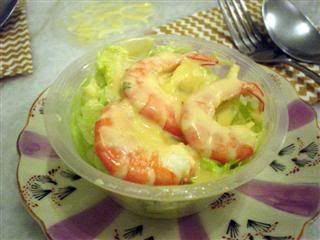 2. Broccoli, Cauliflower, Crabstick & Mushroom Salad in Creamy Wild Mushroom Sauce topped with "longan" fruit. (A case of "dump all leftovers here"...)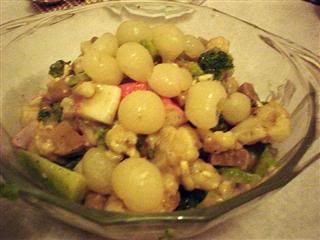 3. Sausage & Pineapple Cocktail.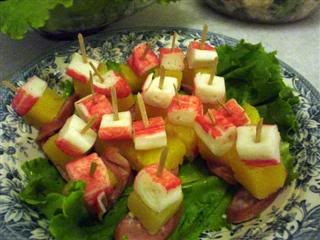 4. Coca-cola Pork Ribs (this is the family's favourite, it seems)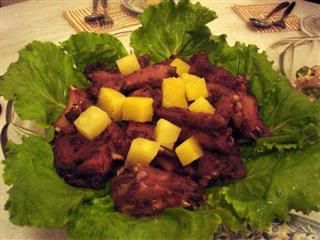 5. Oven-Fried Cucumber & Zucchini Sticks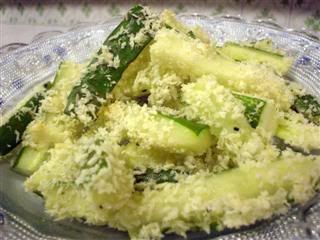 Mains: Choice of

the following

with sides of

Garlic Mashed Potatoes

&
Honey Glazed Carrots.
1. Swiss Steak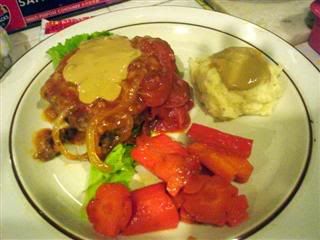 2. Fish in Lemon Parsley Butter sauce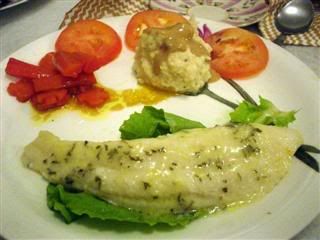 Kid's menu: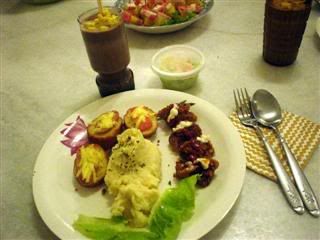 1. Fried Chicken cutlets
2. Sausage/Crabstick Cheese Bruschetta
3. Garlicky Mash
4. Chocolate Milkshake
Desserts:
1. Chocolate Tartlets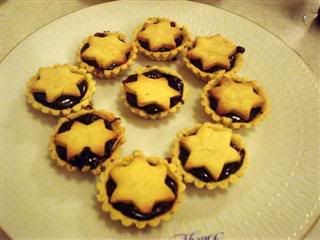 2. Creme Caramel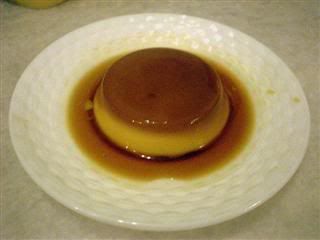 3. Lemon Pudding Cheesecake with Kiwi Fruits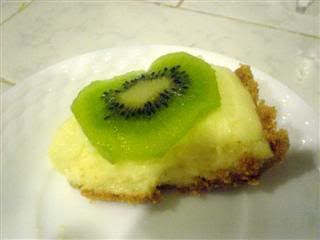 I have to declare the dinner to be a success except for a minor accident. Moments after cutting slices of the cheesecake and when I was about to return it to the fridge, somehow the slippery pie dish slipped out and fell to the floor. Oh no!!! And just when I thought I could have it for breakfast the next day as I like this cheesecake very much. :(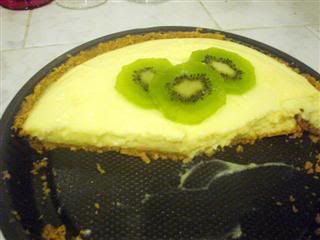 Here's the cheesecake, seconds from disaster!
Nevertheless, it was a fun evening. Tiring yes, but fun! We ended the night with gifts-exchange under the Christmas Tree.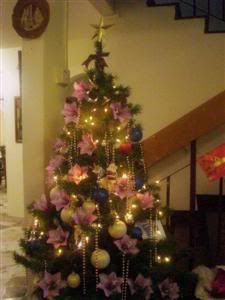 Merry Christmas to All! Good tidings and Peace!