It's back to the kitchen for mass cookies baking. CNY is just around the corner and I want to try a few new cookie recipes before "mass-producing" them for CNY. Time is scarce, life has been very busy and I barely have enough time to bake all I want. Moreover, I will be away next week (
off to HK & Tokyo - yay!)
and by the time I returned, it will be just a mere few days before CNY.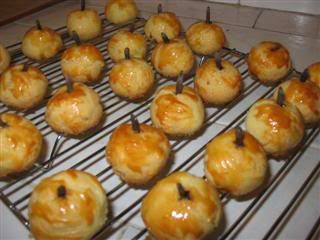 Anyway, here's my first try. Instead of the usual Pineapple Tarts, I baked
Lotus Tarts
. Ahem, to be honest I was just too lazy to go through the tedious process of making pineapple jam. Fortunately, my family (being the first testers) gave their thumbs up! The clove stem that was used only for decorative purpose only lend a hint of spice to the cookies. Hmmm, something diferent...
Recipe: (small-batch: makes about 23-24 pcs)
94g SCS Butter, melted and cooled slightly
125g plain flour, sifted
1 egg yolk
Filling: Lotus paste (or pineapple jam)
Decoration: Clove stems
Glazing: Egg yolk (for the tarts) and egg white (for the cloves)
Method:
1. Combine first 3 ingredients together and softly knead into a pliable dough.
2. Divide into 10g portions.
3. Wrap 1/2 tsp of paste with the dough and roll into a ball.
4. Brush with egg yolk.
5. Dip the cloves into egg white and stick it into the tart.
6. Bake at preheated oven 165-170c for 15-18 mins or until golden brown (original recipe calls for 175c for 20-25 mins)