Reporting the culinary part of my recent trip to Tokyo.
BreakfastWhere: Shinjuku Prince Hotel
Was delighted to discover quite a variety of breakfast offerings. However, delight quickly turned into boredom when the exact same dishes were repeated everyday throughout my stay there.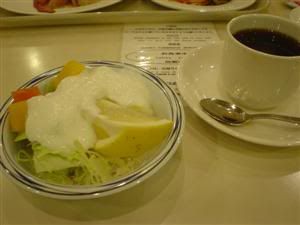 Salad with Pineapple & Grapefruit slices topped with Fresh Yogurt.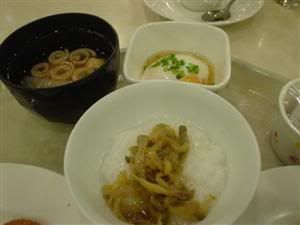 Plain Congee topped with Preserved Vege. In the background are Miso Soup and Soft-boiled Eggs Japanese-style.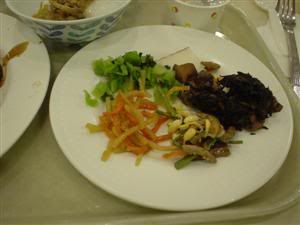 A variety of Japanese pickled vegetables.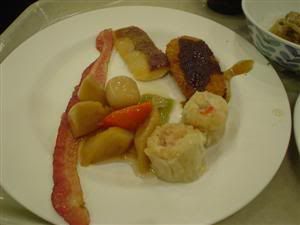 More offerings...
Snacks and Pastries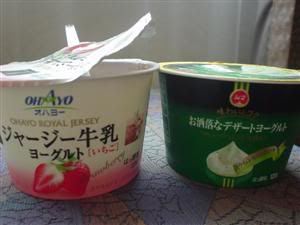 Yogurt
Yogurt in Japan really does seems to taste better, even those low-fat ones. Creamy and thick. Highly recommended!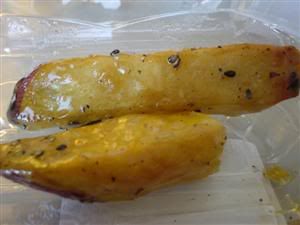 Candied Sweet Potato Sticks coated with sesame seeds
Very nice to munch when feeling hungry from walking too much.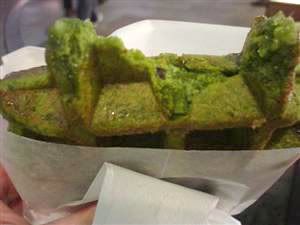 Belgian Waffles from Manneken
(
I hope I got the spelling right)
I discovered this during my visit to Japan last year so I made it a point to stop-by again this time. This shop is in Ginza. They have special flavours introduced for a limited time only. This time, the special flavour was Green Tea (much to my delight!). Seriously good!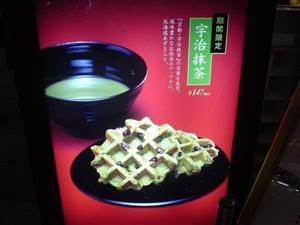 Advertisement introducing the special flavour.
An-pans with various fillings from Kimuraya Bakery
I was informed that Kimuraya is famed for its mini an-pans in various feelings. True enough, the original shop in Ginza was very crowded when I was there. I had the chance to sample a few and bought a few. My favourites are: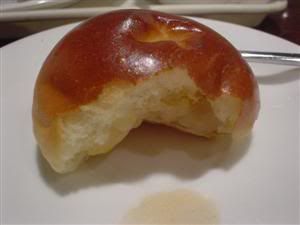 With Yuzu Orange filling,
as well as chestnut filling, pear filling, green bean filling and the classic azuki beans (red beans) filling.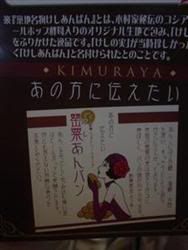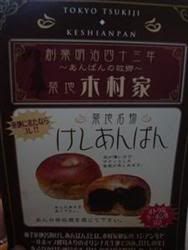 Ads for the famous an-pans.
I later discovered that I didn't have to travel all the way to Ginza for there's this cute little van that sells Kimuraya an-pans just in front of my hotel in Shinjuku.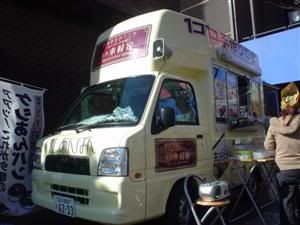 Chocholate Truffles from Pierre Marcolini Chocolatier
Japanese, I noticed do know how to appreciate the finer things in life, including food. Just check out all the world-renown and exclusive brandnames and makers of sweets, chocolates, pastries among others in the food hall of major departmental stores.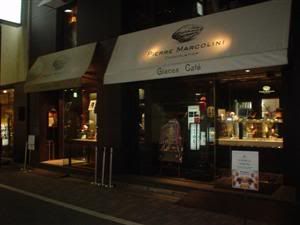 However, this shop is located in exclusive Ginza. They have two adjoining shops, one selling ice-creams and the other, chocolate truffles. And these little precious are a real sight to behold. After some difficult contemplation, I finally decided on these 2 jewels: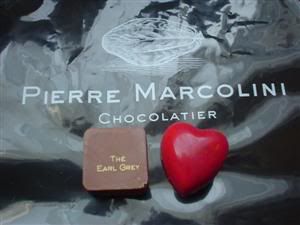 The Lait (Earl Grey) and Coeur Framboise (Raspberry coated White Chocolate with Dark Chocolate Center).
Do I really need to go through the length to describe how fantastic these were? Despite costing quite a bomb, one bite and you will never regret buying them. I would have also tried the ice-cream next door if not for the near freezing temperature of a typical evening in the winter month of January in Tokyo. I was half-afraid that I will freeze my tongue upon contact with the ice-cream *LOL*.
Omochi and Sweet Potato Pie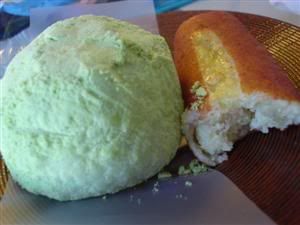 These 2 are standard fares in Japanese desserts. The pie is rather sweet with a strong cinnamon scent that I wasn't too keen on. As for the Omochi, I chose one coated with endamame (sp?) or soybean powder with classic azuki beans filling. Quite a unique flavour, I would say.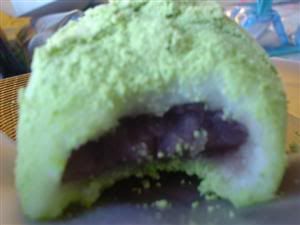 Mini slices of Cakes from Q.E.D Patisserie
As mentioned earlier, Japanese are big on sweets and pastries. One will be spoilt for choice when entering into a food hall in a Japanese departmental store. I bought this from Q.E.D Patisserie.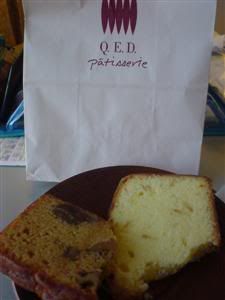 Caramel Walnut Cake and Orange CakeMore Cakes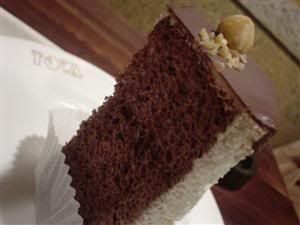 Chocolate Hazelnut Chiffon Cake
The above was from a little cafe in Ginza where I hopped in to find temporary shelter from the chilly weather. There was one last piece left on the counter and I quickly snapped it up. But it looked nicer than it tasted though. I found it rather dry and the flavour, unexciting.
However, the same cafe serves very good
White Chocolate Latte
that seems to be just the right answer to a chilly weather.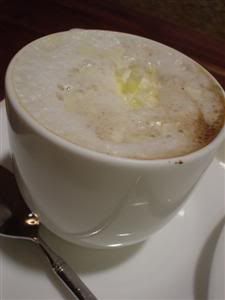 Strawberry Cheesecake from The Cheese Cake Cafe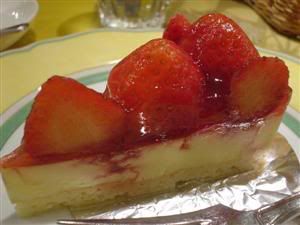 Aside from the big and luscious strawberries, this cake was nothing to shout about. Although still nice, it will not blow your mind. In fact, I find the cheese rather mild-tasting.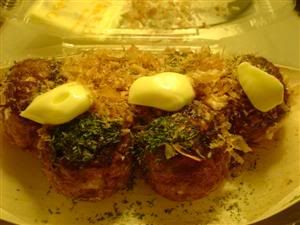 Taro Balls
Truly delish!
Main Meals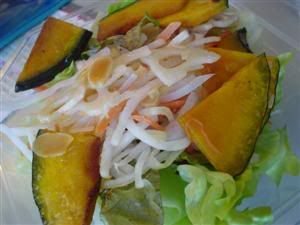 Pumpkin Salad
I got this from a supermarket outlet. It looked so beautiful and I love pumpkins! True enough, the roasted pumpkin slices were so delicious. A light and refreshing meal.
Rice Burger & Dessert at MOS Burger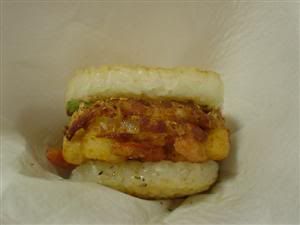 I know MOS burger is available in KL (unless they have closed down) but don't seem to recall the local outlets serving this. Instead of the usual sesame buns, seafood & vege tempura is sandwiched in between 2 layers of lightly pan-fried buns made entirely of rice. Ichiban!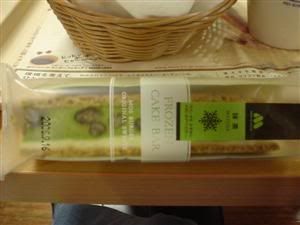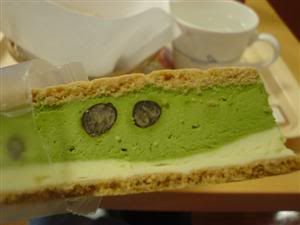 And so is their dessert offering. Something known as Frozen Cake Bar, I chose the Green Tea and Red Beans flavour. Tasted more like an ice-cream bar but seriously good.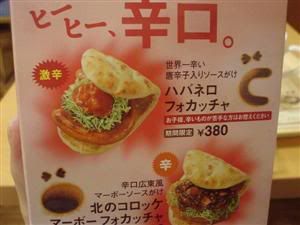 Their latest offering.
Japanese Curry Rice (near the east exit of Shinjuku JR Station, at the crossroad)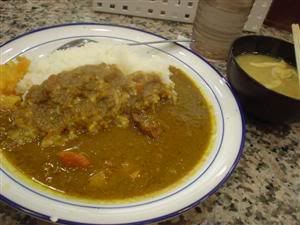 What you do is select your choice and buy a ticket for your choice at the vending machine outside the restaurant. Then you go in and hand over your token to the waiter and find a vacant stool for yourself at the counter. Within minutes, your meal will arrive with a complimentary miso soup on the side.
Sushi from Sakurasusi (outside Shinjuku Prince Hotel)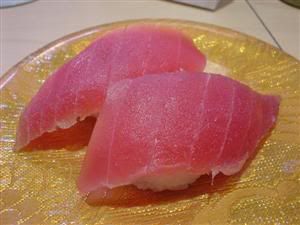 Tuna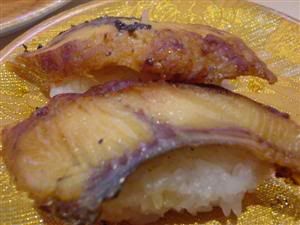 Grilled Eel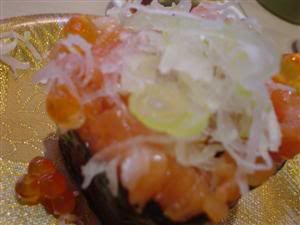 Salmon Roe topped with Bonito flakes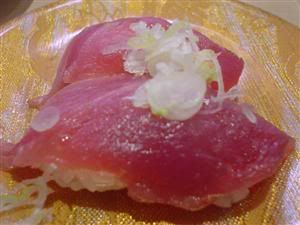 More Tuna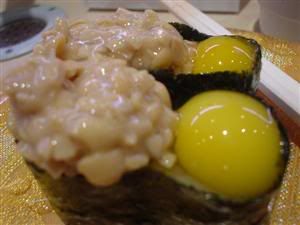 Nato (sp?) or Japanese Fermented Beans with Raw Quail's Egg (Definitely not for the faint-hearted)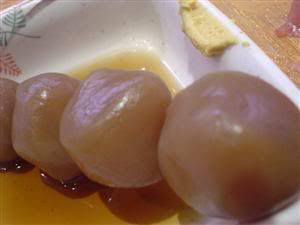 Yam Balls boiled in sweet soy sauce
And surprisingly, the total for the entire meal was less than RM24. Rather cheap, isn't it?
Best Seafood Dinner
I was treated to a very good Japanese Seafood dinner by a very good Japanese acquaintance of mine. Although there was just 2 of us. he was very generous when ordering.
(Sorry, pictures are slightly dimmed and blurred because I forgot to turn on the flash).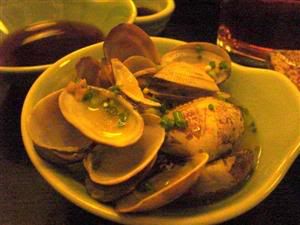 Japanese Clams cooked in broth
They tasted really different from Malaysian's la-la. Sweet, plump and juicy; and the broth was real tasty too! Not one drop was left in my bowl.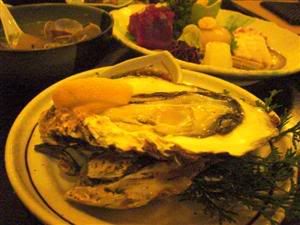 Japanese Raw Oysters
I think these are the biggest oysters I have ever seen. And they tasted so fresh and juicy too!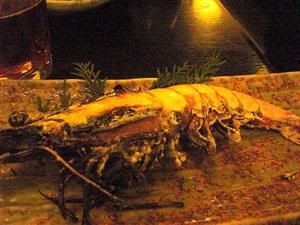 Grilled Giant Prawns
Oo-la-la!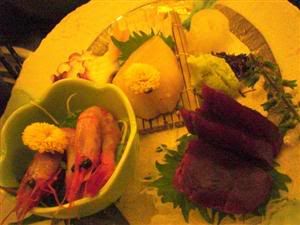 A selection of fresh sashimi
Always my favourite!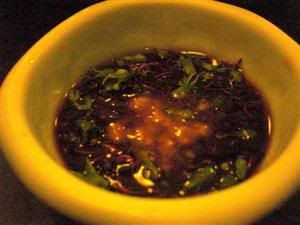 Dipping sauce. Aside from the standard wasabi, another alternative is to mix these herbs (leaves & flowers) to the soy sauce - as taught by my Japanese friend.
Nabe (Japanese Steam boat with raw thin beef slices and a plate of fresh seasonal vegetables)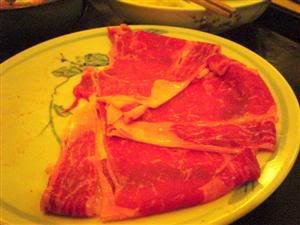 Raw Beef Slices (2 dipping sauces provided, soy sauce and sesame sauce)

The hot pot