Here's a rough guide to some quintessential HK snacks while in HK:
Roasted Sweet Potato ("Ooi Fang Shue")Where: Roadside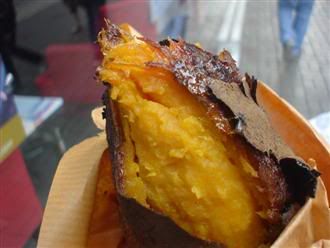 During cooler season (and sometimes available during summer too), you will find people selling roasted sweet potato from their roadside carts. How do you find one? You will know if there's one in the vicinity, the smell is unmistakenly sweet and delicious. There are usually 2 options available, orange flesh or purple flesh. The former is sweeter but the latter is more fragrant. The one seen above is of the orange flesh variety. I am not sure how they roast/bake it by the outer layer is caramelized, resulting in a even more sweet and delicious taste.
Vegetarian Snacks Where: A Vegan Restaurant located in Jordan.
Ok, these are not "must-eats" in my opinion, but when I passed by the restaurant and saw that they have a separate stall selling these snacks, I got curioused.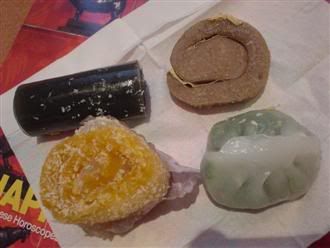 Clockwise from left:
Black Sesame Jelly Roll (quite good); Deep-fried Yam slices (overly oily and not much taste); Chinese chives in crytal dumpling (I have had better ones); Coconut sweet dumplings with Lotus paste (now, this was good..)
Macau-style Pork Chop in Crispy BunsWhere: Macau Restaurant in TST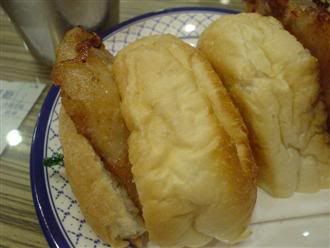 Widely available in HK, this version is slightly different in a sense that the buns were crispy (probably pan-fried first). I saw many patrons in the restaurant (it's a popular restaurant with a queue forming outside most of the time) enjoying this but when I had it, I couldn't help but wished that I had a bottle of chilli sauce that I could smother the pork chops. Otherwise, they were pretty bland. Fortunately, the redeeming grace was found in their Macau-style Iced-Coffee and Portugese Egg Tarts (see review below).
Egg TartsWhere: Macau Restaurant and Honolulu Coffee Shop in WanChai
Now, egg tarts are must-haves especially with a cup of "nai-cha" (milk tea) or coffee. Usually available in 2 types, basic egg tarts and Portugese egg tarts.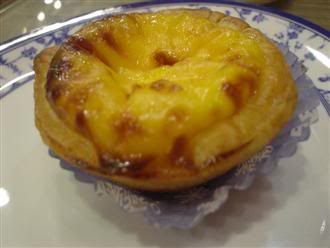 Portugese Egg Tart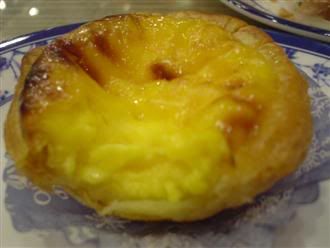 Bitten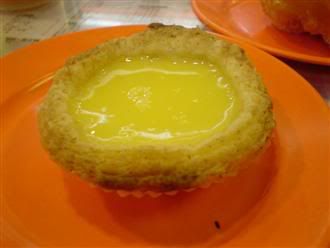 Best Egg Tart
I had the former in Macau Restaurant. They also have it in Egg White version but unfortunately, it wasn't available on that night when I was there. Anyway, this version is very good. You can see that the filling was silky smooth. It was very rich and yummy. There was a hint of condensed milk and coconut milk in there but I could be wrong. This egg tart will totally blow your diet plans far away but it was worth every bite.
The plain egg tart pictured above is my favourite egg tart in HK (so far) from Honolulu Coffee Shop. The custard is silky smooth and the pastry just melts in your mouth. It really does! Go try it if you have the chance!
Other famous HK pastries ("Por Lor Pau"-Pineapple Buns; "Tan Kow"-Egg Balls; "Nai Yao Tor"-Butter Toasts with condensed milk; and Mango "Loh Mai Chi")Where: Coffee shop opp. Yung Kee Roast Goose in Central / Honolulu Coffee Shop / Hui Lang San Dessert Shop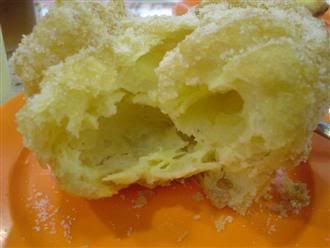 This tastes like a lighter and a more airy version of doughnuts, almost like choux pastry dusted in sugar but not quite. Best consumed while still warm. You can also request a warm one from the waiter.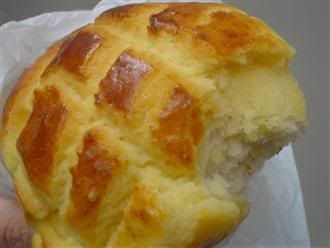 Another must-have with your cup of milk tea or coffee, this is one of the (if not the most) popular buns in the whole of HK. And the one pictured above is my favourite. It has a crusty top but the inside is soft with a lingering but not overpowering scent of pineapple. Another option is to have it with butter. Again, this is best consumed warm.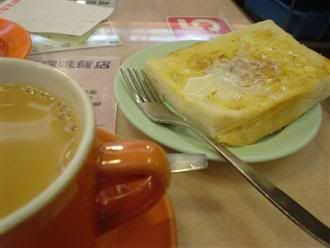 Another favourite breakfast food for me while in HK is the "Nai Yao Tor" (with a good cup of Nai Cha or Coffee of course). Try it and you will see why it is so addictive.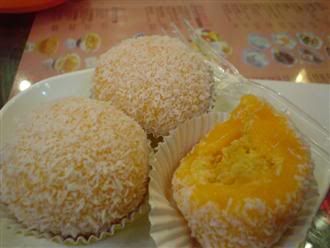 Known as "Mango Loh Mai Chi" (Glutinous Rice Dumplings with Mango filling and coated with coconut), this is a favourite dessert of mine in HK. Sold in the popular chain of dessert shop called Hui Lang San found almost everywhere in HK, I made it a point to have this each time I am in HK.
Congee (Pork & Century Egg Congee)Where: Coffee shop opp. Yung Kee Roast Goose in Central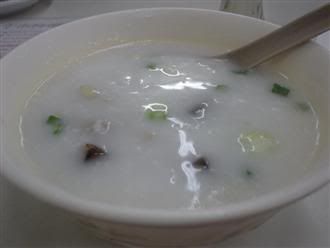 Porridge or congee is no doubt one of the quintessential comfort food in HK. The Hong Ki's are particularly good in cooking their porridge. To me, their version is not like any of the version that can be found here in Malaysia. I do not know how else to describe it except that you can taste that it has been slow-cooked over low-fire for quite a number of hours. For someone like me who was having a very bad sinus on that day, it provided the ultimate heart-warming and stomach-filling meal. Ichiban!
Cheong Fun ("Sam Sek Fan" - Steamed Rice Rolls with 3 fillings: Char siew (roast pork), roast goose and shrimps)Where: King of Congee & Noodles @ Airport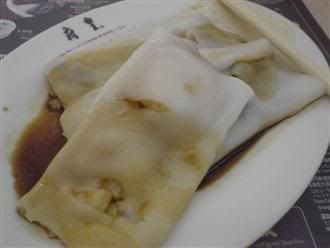 Verdict: Not bad but pricey at HKD38.00.
TongShui (Sweet Soup)Where: Tong Shui shop in Causeway Bay (near Times Square)
This shop serves a variety of home-cooked tong shui. It is a very small shop so seating may be a problem. You will be able to see pots of tongshui at the front of the shop as you enter with a lady manning them.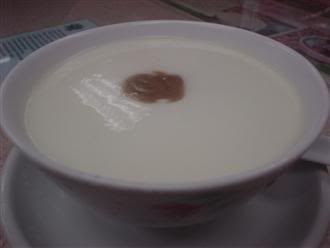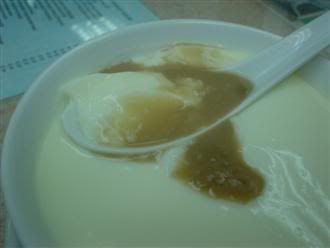 Steamed Egg White & Fresh Milk with Walnut Paste filling.
Silky smooth and the walnut paste in the center was very good too! Nutritious and heart-warming.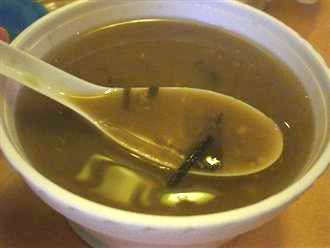 Green Bean Soup with Chinese Herbs and Seaweed.
I tried this because it was the first time I have come across this unique combination. Erm, I think I will just stick back to my mom's green bean soup. This combination tastes quite similar to those Chinese Herbal beverage.
Beverages (Local Favourites and mine as well)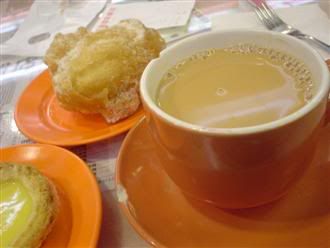 Nai Cha (Milk Tea)
Found at almost every eatery in HK. The above was from Honolulu Coffee Shop.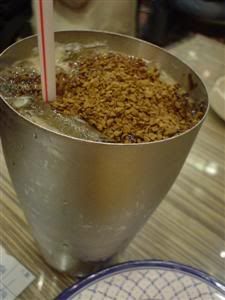 Iced Coffee, Macau-style
This is a new discovery. Sweet (but not overly), strong and potent, this drink delivers quite a kick! See the generous sprinkles of coffee granules meant as toppings!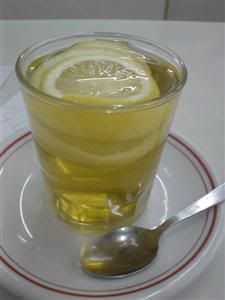 "Leng Mat" (Lemon Honey)
I totally rave about this drink (the above was from the coffee shop in Central mentioned above). Nice and refreshing. Also a good remedy for anyone with a mis-behaving nose. If you wish, you can also ask for extra slices of lemon.