Another quicky recipe. This dessert can be done is less than 10 mins. Not the first time that I
did this
but always a yummy and easy recipe especially when you have guests arriving in less than 30 minutes! This time I added a bit of orange cordial to give it some orange flavouring and coloring so that they looked like mandarin oranges (
since it was still CNY
). Also, I added whole roasted pistachio nut (
de-shelled of course
) to the red bean filling. Yummy and ready in
less than 10 mins!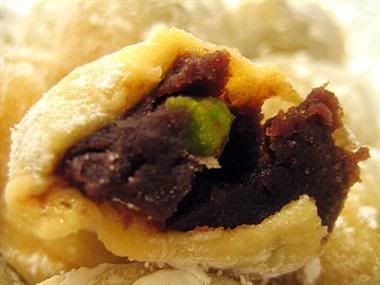 Snowy Orange Redbean Pistachio Mochi
Ingredients:
Mochi Skin
100g Japanese Glutinous Rice Flour (those used for Japanese Mochi)
180g water** minus 1T
1T orange cordial
2T sugar or adjust to preference
** If not using flavouring, just use 180g of water.
Filling:
Red bean paste
Roasted whole pistachio nuts
- Prepare filling first. Roll about 1 generous tablespoon of redbean paste into a ball. Stuff 1 nut into the ball. Roll again.
Dusting:
Corn Flour or dessicated coconut
Method:
1. Mix orange cordial in water.
2. Put glutinous rice flour in a deep microwaveable dish. Pour in water from (1) and stir well until it becomes a watery paste.
3. Add sugar and still to dissolve.
4. Cover and microwave on HIGH for about 2 mins. If still watery, zap it for another 30 mins
5. Remove and stir quickly with a pair of chopsticks.
6. Dust hand and work area generously with corn flour. Take about 1 - 2T of dough. Flatten into a round with palm or fingers. Try to make edges thinner than center. Work quickly and be careful as dough will be quite hot.
7. Wrap the skin around 1 prepared redbean ball. Knead the edges shut and roll into a ball. Dust generously in corn flour.
8. Serve immediately or keep in fridge. You can warm it up again before serving by zapping in the microwave for about 10 secs.