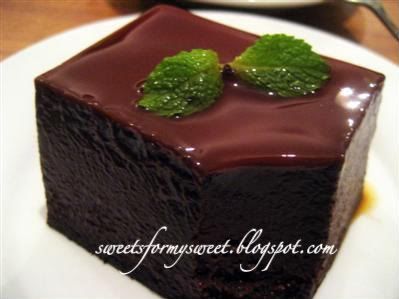 My favourite dessert at Kissaten
When I first saw the beautiful photography in
this
blog post, I thought a visit is a must. An opportunity came about when a group of friends were looking for a place to celebrate a birthday recently.
It being my first visit to
Jaya One
, it took me awhile, a few confusing turns and a couple of frantic calls to locate the restaurant. I was late and most of the main courses had been served. I just took a few bites here and a few bites there and only managed to capture a shot of my own order, the
Kissaten Pork Tamago Burger
. I am such a suckle for delicious-looking poached eggs and if you are too, I bet you would fall in love with the photos in their menu.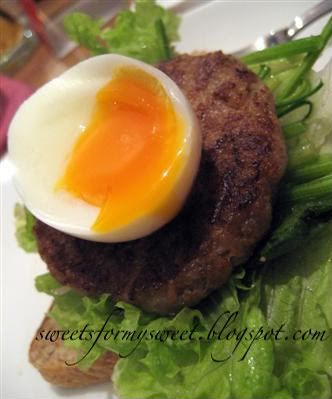 Kissaten Pork Tamago Burger
However, for me, the photography held more promise and anticipation than the actual presentation. Th softly poached egg (1/2 egg) was still good but the entire burger (or should I say sandwich was slightly on the dry and bland side. The patty itself was sandwiched between 2 slices of wholemeal bread (similar to commercial brands). The patty was thick, egg and vege were fresh but that's it. After a couple of bites, I had to request for some sauce to go with it.
Some other dishes were more successful in my eyes. I like the
No.1 Char Siew Pizza
and their snack plate
Cheese Balls. Katsu Don
and
Tangy Duck Spaghetti
were not as appealing in taste. As for beverages, they serve quite a variety of coffee, beers, juices and mocktails. I enjoyed my
Iced Ginger Honey
drink a lot.
Desserts were memorable for me. Highly recommended by the staff is their
No. 1 Baked Cheese Cake
.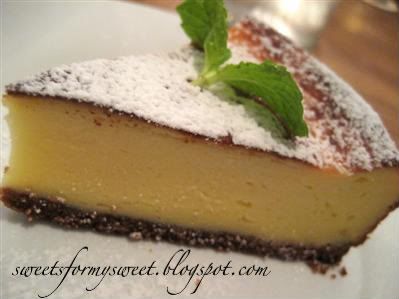 No. 1 Baked Cheese Cake
It looks ordinary but after a taste, it's not hard to see why it deserved such a prestigious title in their menu. ;-p
Light and souffle-like
, it was very delicious indeed.
I have a "
thang
" for pumpkins so I was delighted to see
Pumpkin Cream with Vanilla Ice-cream
listed in their menu.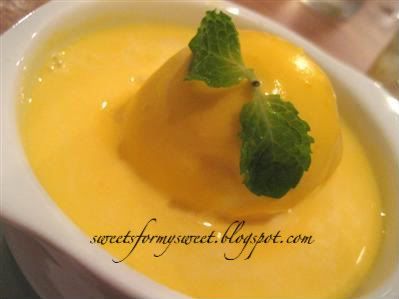 Pumpkin Cream with Vanilla Ice-cream
The dessert was alright but I have to confess that I had higher expectations of it. Mixed with the vanilla ice-cream, it tasted more like sweet corn cream rather than pumpkin to me. My favourite dessert of that night has to be their
Rich Choco Pudding.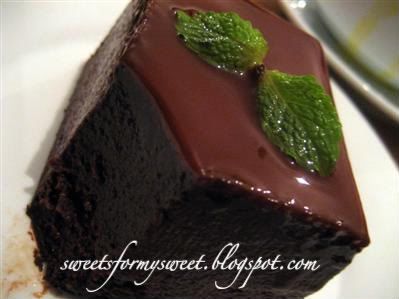 Rich Choco Pudding
Strangely, some of my friends didn't like it at all saying that the texture and taste were
"a bit strange"
but I thought the pudding which was sublime in taste and velvety in texture, was absolutely gorgeous!
Service although polite, was rather slow that night. Then again, we were quite a big group and the restaurant could also probably be facing some common
teething problems
being just recently opened. Ambience was airy and comfortable but location was a bit obscure. Pricing is moderate ranging from RM6.90 for the
cheeseballs
, RM10.90 for the
burger
to RM23.90 for the
pizza (size similar to a personal pan pizza)
and beyond . Desserts were priced between RM7.90 to 9.90. Set breakfasts and set lunches are also available with prices starting above RM10,
I think
.
Image borrowed from their website.
KISSATEN Coffee and Restaurant
L12A-1-1, Palm Square JAYA ONE
Jalan Universiti, Petaling Jaya, SEL.
Tel: 03 - 7954 1990f
Opening hours: 8am - 10pm daily
**Click here for link to this article published in The Sunday Star (Meto Section) on 20 July, 2008.