By now, I would say that
Bakerzin
has become a name synonymous with "
sweets
" and "
desserts
". A for a sweet tooth person like me, it is almost like a
2nd home
-
not quite, but close
.
(hehheh).

Why do I like them so much? Because I reckon that they go for quality instead of quantity. Have a peak at their cake counter and you would see that most of them are rather small in portion but take a bite and you will find that only fine ingredients are used in the cakes. One exception is their
Apple Strudel
, which is rather monstrous in size and in my opinion the most
value-for-money
that I came across so far. But that's another story...
I have a few favourites from
Bakerzin
but today I will just introduce one of them. Named "
Sweet Pleasure",
it is indeed what its namesake suggests. Here's the official description of this dessert
..."Layers of hazelnut praline dacquoise, Jivara milk chocolate ganache with fleur de sel, topped with chocolate mousse."
Aptly described, there is nothing else I could add except to give my two thumbs up!!!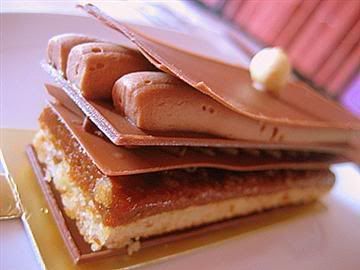 Layers of Sweet Pleasure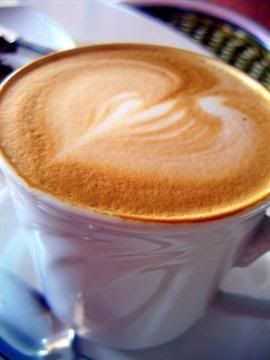 And myCoffee's daily quintessential: Today's pick - Cafe Late. Loved how it is prepared!
Bakerzin
1 Utama and Bangsar Shopping Village