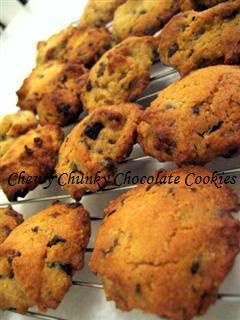 Yup, I have been bitten by the "L" bug; "
Lazy
" bug, that is. Haven't had much motivation to bake recently and partly due to that for the past few weekends, I have been attending birthday celebrations, pre-wedding gatherings, hen parties as well as wedding dinners. "Phew", September and November are such "hot" periods to get hitched.
So for the past couple of weeks, these are the only things that came out from my oven...
Coffee Liquor Chiffon Cake
based on
this recipe
. I tweaked it a bit to use whatever ingredients I happened to have in my pantry. But anyhow, I used 5 whole eggs and as for the coffee liquor, I used
Amarula
instead of
Kahlua
. I wasn't overly satisfied with the outcome of the cake. Probably due to my substitution
(i.e., quantity of eggs used),
the chiffon cake was not as high as I would have like. Also, it was slightly "holey". Taste-wise, it was pretty alright. Coffee with subtle taste of the Amarula, it is more suited for adult tastebuds though.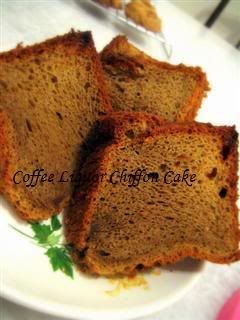 One of my nephews,
Clement
had been bugging me to bake him some chocolate chip cookies. What my nephew wants, my nephew gets (ceh...). I used my
current favourite
chocolate chip cookie
recipe
. It's chewy instead of crispy. Using chocolate chunks means that you will get melted chocolate puddles when you bite into the cookie.
Like this......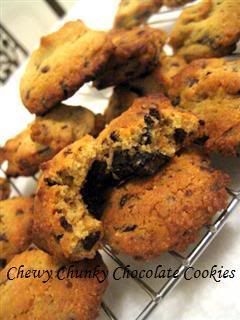 After all the coffee, Amarula and chocolate, I must make something healthy, right? So out came this healthy
Multigrain Raisin Wholemeal Bread
. I bought the pre-mixed multigrain/seeds packet from
Aunt Catherine (Best23)
and followed the attached recipe. Only thing that I added some molasses sugar and threw in some raisins.
Yum....