A friend from Shanghai was in town recently. He said he has not been to Bangsar for ages and was keen to see the changes. So I brought him there and we had dinner at
TSB
.
I have been to
TSB
a few times although not recently. I rather like the place because I find their menu to be pretty interesting. Some of my favourites include their
BBQ Salmon
as well as their
truffled mash
.
All of us ended up having fish. My friend from Shanghai chose
Cod with Nori
while Ann chose
Crispy Skin Sea Bass
. I opted for another version of
Cod
, I think it was pan-fried.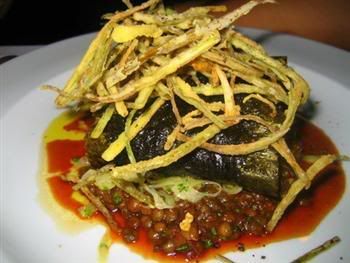 Cod with Nori Strips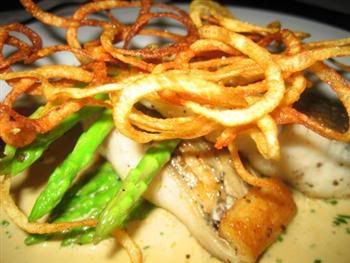 Crispy Skin Sea Bass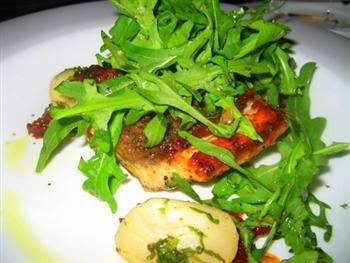 Cod, pan-fried? Served with arugula salad.
Both my friends remarked that they like what they had although Ann said she couldn't figure out any 'crispy' part on her fish. As for myself, to be honest, I couldn't remember much about my dish. I reckon it was pretty alright albeit average, not something I would re-order. The flavour was rather subdued and the accompanying salad was just,
erm
, salad.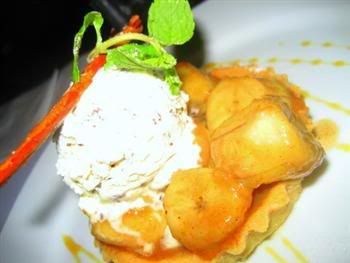 Caramelized banana tart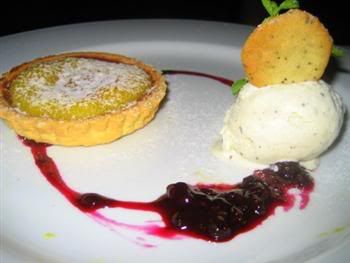 Lemon Tart
Here are the desserts. Ann and I shared the
caramelized banana tart
(could not recall actual name) while my other friend had the
lemon tart
. Not bad, but not much
'wow'
factor either. If I really need to compare, I would say I prefered the lemon tart.
Telawi Street Bistro
1-3 Jalan Telawi 3
Bangsar Baru.
Tel: 03-2284 3168