Haven't done much baking lately. I missed baking but for a long time now, weekends were filled with activities. Just imagine, 12 birthdays over a period of 5-6 weeks not to mention a couple of weddings here and there plus visiting friends from offshore, these were more than enough to take its toll on me.
But there had been lots of eating though...hehe.

A few weeks ago, I once again spent a weekend of indulgence at my favourite hotel in KL at the moment -
Hilton Kuala Lumpur
. This time, was hoping to be upgraded to their Executive Floor but the furthest I got was their Honors Floor..
*grin*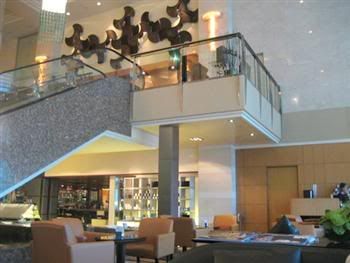 Anyhow, the entire afternoon was spent having
hi-tea
at the
Cosmo Lounge
. The
hi-tea
spread was rather small (both in selection and serving -
you will see later
), but was rather interesting. Everything came in bite-size servings, this was the first time I actually saw only 2 small cuts of "chee cheong fun" served on a sauce plate, and this was later reduced to just one small piece.
*LOL*
But the small serving worked in a sense that I got a chance to taste almost EVERYTHING at least once. Enough yakking, let's take a look at some of their spread.
Savouries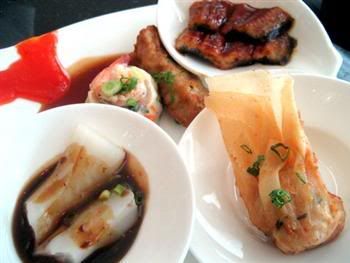 Asian appetizers. First time I saw chee cheong fun served in such miniscule serving. The grilled unagi was the best. Sadly, only 3 plates were replenished each time. Still it didn't stop me from having countless plates of this.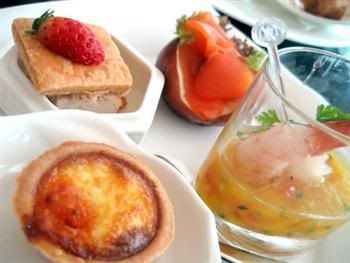 The prawn in cold mango consomme was yummy!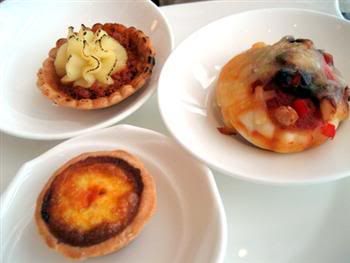 Savoury pastries.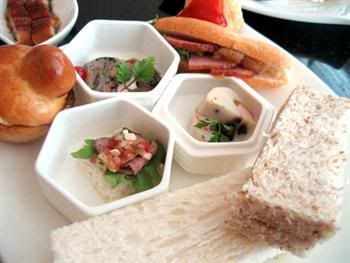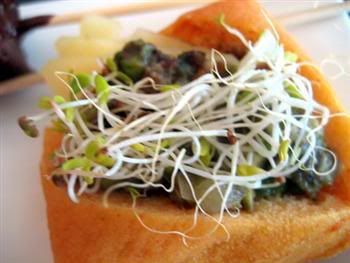 More western-styled appetizers and various sandwiches.
Not bad...
Not the tuna nor egg sandwiches though.
Fillings were surprisingly measly.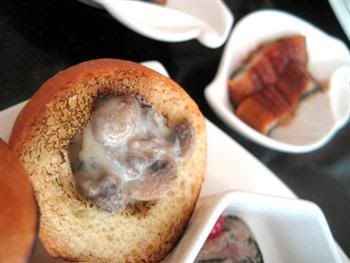 This was another favourite of mine, creamy mushroom in the smallest ever brioche that I came across. Small enough to pop the entire thing into your mouth at one go.
Highlight of every hi-teas - the
DESSERTS!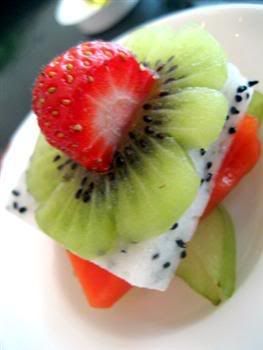 Started with something light...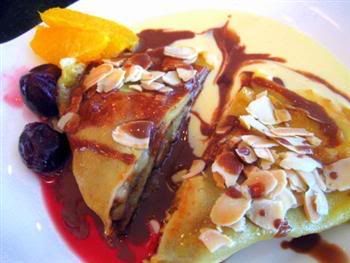 Freshly prepared crepes with choices of fillings and condiments...
Delicious!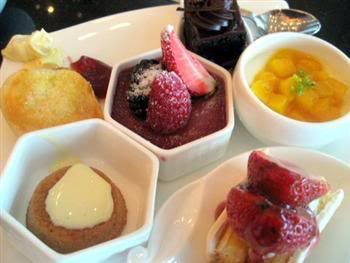 At this point, any pretense to hold back was lost.
Major pig-out time!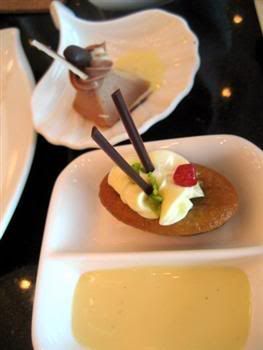 This looks cute, doesn't it?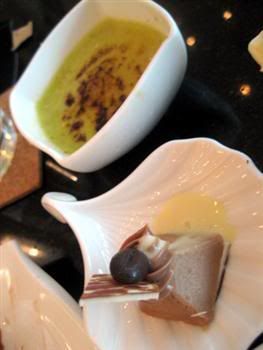 Another 2 of my favourites,
Chocolate Truffle
and
Lime Creme Brulee
. Truly yummilicious!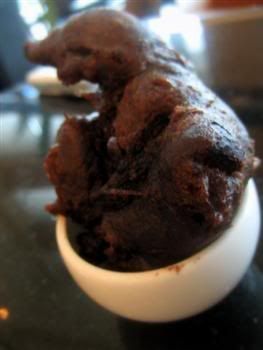 This looked ugly, I know. They called this Chocolate Fritters. Not very nice though since it was quite cold. Might be nice if served warm or when just fried.
Also included was a chocolate fountain with various condiments - fruits, marshmallows, baked goods. No need to go into details here. After all, one can never go wrong with a chocolate fountain.
What a nice way to spend the afternoon. Surrounded by a relaxing environment with live piano music, lots of yummy goodies and plenty of conversations, it's undoubtedly one of my favourite pastimes for a lazy weekend afternoon. My only gripe was the hi-tea only comes with one miserable round of coffee/tea.
Duh, how stingy!Cosmo Lounge
Hilton Kuala Lumpur