At the risk of sounding crude, I have to say that I had a "P-L-C" time at Max! Kitchen and Wines recently.
"P-L-C**"
in
cantonese
as in
"peng"
(cheap),
"leng"
(beautiful),
"cheng"
(great).
*grin*
Why so, you may ask? Well, I had great food in the company of beautiful ladies (
you girls rock
!) and all at a cheap price
(what a bargain!),
what more could I ask for?
I was invited to a the KLUE RSVP event held at the lovely
Max! Kitchen and Wines
at Tengkat Tong Shin. Since they were 4 of us, we were given a table by ourselves.
Despite the usual after-work Friday crawl along Federal Highway into KL, I still managed to reach there on-time. In fact, my friend and I were among the first few to reach.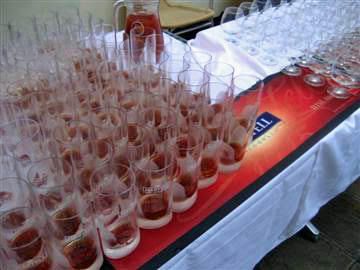 Bring on the booze, baby...
While waiting for my other 2 friends to arrive, we (
or rather, I
) helped ourselves to the free-flow cocktails sponsored by
Martell VSOP
. There were 2 types of fancy-named cocktails prsented but basically it's just martell + green tea, martell + fruit punch and martell on-the-rocks.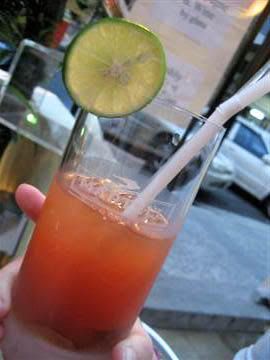 Delicious, addictive and alcoholic, a dangerous combination, heh heh.
The fruity cocktail was rather delicious and addictive. Because of the latter factor, I prefer the green tea option. Refreshing albeit potent (slightly)!
Luckily, my other 2 friends didn't take too long to arrive (I was starting to feel famished) so without further ado, we seated ourselves at our table. Once seated, the complimentary bread basket was served in no time. The bread, probably some kind of olive flat bread (ie., ciabata, foccacia) was soft but what I really liked was the accompanying balsamic vinegar in the olive oil. The b.v was slight thicker than usual with a rather sweet taste to it. I so
dig
it!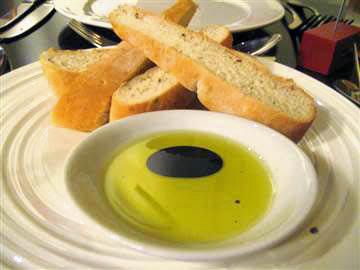 Nice bread and even nicer balsamic vinegar.
The starter was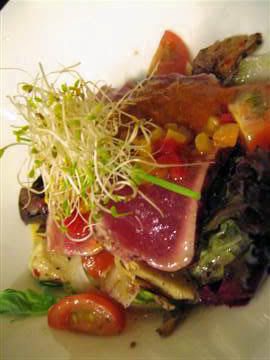 Appetizer: Tuna Loin, Pan Seared Rare with Marinated Fennel salad, Cajun spiced Capsicum Salsa and Chiptotle Pepper Sauce
If you love tuna sashimi, you will definitely love this dish. And I did. Buttery and tender semi-translucent flesh that melts in your mouth. However, my friend who isn't very keen on raw or semi-raw stuff, took at few bites and distributed the rest to all of us
(much to our erm, delight!).
The salad was fresh and well-marinated with the light yet slightly peppery dressing. The overall effect was slightly minty, peppery, crispy and crunchy; and it complemented the tuna well.
There were 2 choices of main, one was chicken and the other was cod fish. Well, of all us ladies chose the fish. And it was a wise choice!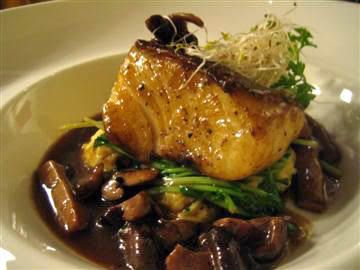 Cod Fish with Shiraz Braised Four Mushrooms Stew, Mascarpone Polenta & Sauteed Pea Sprout
I don't think I have ever tasted cod done this way. Usually it's either served in a light creamy sauce, or soy-sauce based (think teriyaki or chinese soy sauce). But this was a wonderful change. At the risk of sounding repetitive, the fish was buttery and tender with melt-in-your-mouth texture. Trust me, you would want to savour this bit-by-bit. I like the smokiness of the mushrooms stew. I don't really like polenta but the polenta was finely mashed/pureed in this dish that it provided a nice creamy contrast to the smoky sauce.
A meal is never complete without desserts and here, the dessert was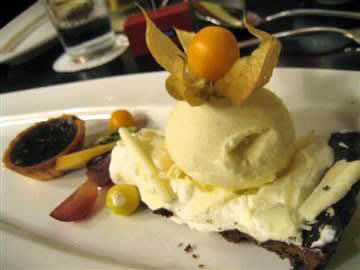 White Chocolate Fondant Tart with Milk Chocolate Creme Brulee and Vanilla Bean Ice Cream
Well, the dessert was ok but unmemorable. The white chocolate fondant tart tasted like a rich sweet whipped cream in a heavy chocolate biscuit pie base. The milk chocolate creme brule tasted like a mini chocolate tart. It would probably be better off being a just a plain chocolate tart, with a rich and intense chocolate filling
but alas!
Again, the tart shell wasn't very well done here. A little too thick and coarse, perhaps? The berries used for garnishing were also too sour. Maybe it was meant to be so, to cut through some of the sweetness of the desserts, but it was overly so to the point that I actually cringed when tasting it
(and I can usually take pretty sourish stuff
). The ice-cream was alright though.... Oh, and by the way, coffee was pretty good.
Service was prompt and attentive enough throughout dinner. After dinner, we congregated outside for more drinks
(yes, it was still flowing, so-to-speak
) and photo-taking
(the polaroid girls were very nice and tolerant with us, demanding lot).
Thanks to KLUE too, for organizing such a fun event. I will definitely come back here again to try out other stuff on their menu.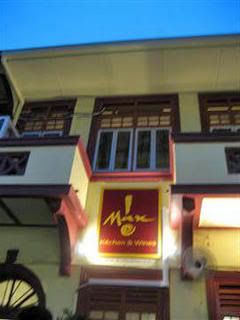 Another great thing happened during the event. By chance, I met
Foodie Lianne
, another fellow food blogger. What a lovely and bubbly lady!
Lianne, I do hope to see you around more often
. :)
Read about her even more interesting coverage of the dinner
here
.
Max! Kitchen and Wines
27 Tengkat Tong Shin, Kuala Lumpur
Tel No: 03 - 2141 8115
Other reviews:
Masak-masak
** A typical Cantonese slang used to describe a common criteria in purchasing something (e.g., cheap, looks good with great quality)