Having recently (and finally) acquired
Martha Stewart's The Baking Handbook
, I wasted no time in putting it to good use.
By default, I had actually used
a recipe from this book before
but that was when I loaned it from another
blogger's website
. This cake looked so wonderful in the book, simplicity at its best.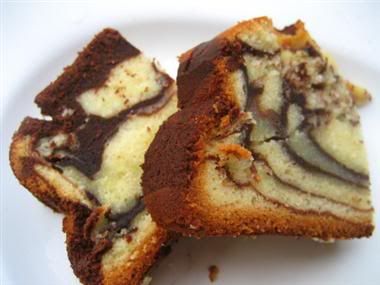 I daresay mine was not too bad compared to the original either. The only problem I had was that there were bits where it was slightly underbaked, probably due to my oven's (unreliable) temperature. Anyone knows where I can get a good oven thermometer? About time I get one and lay my suspicions to rest.
Speaking of
her chocolate chip cookies
(
as mentioned above
), another variation that I have tried is to turn them into
Mocha Chocolate Chip Cookies
. Just add strong coffee powder to the mix and lessen the vanilla. In addition, I froze the dough by rolling them into a log with cling wrap and keeping them in a cylinder tube. When you want to bake them, just slice and bake. The ones below were baked for a friend. I tried one piece and it tasted yummy with the addition of coffee powder although it was more crispy than chewy this time
(probably because I baked them longer this time
).
I hope my friend thought so too.