**Warning! Picture-heavy post ahead!**
Initial plan was to have lunch at the newly-opened
Pavilion
but due to the limited choices available (most shops aren't open yet), my friend and I decided to have a lunch leisurely at
Eest
,
Westin KL
just across the road.
It was a Saturday so we opted for the
"eat-all-you-can"
dim sum brunch at RM58++ per person*. As usual, I was pretty impressed with the interior decor of
Eest
. It truly looks like a posh club instead of an Asian (fusion) restaurant.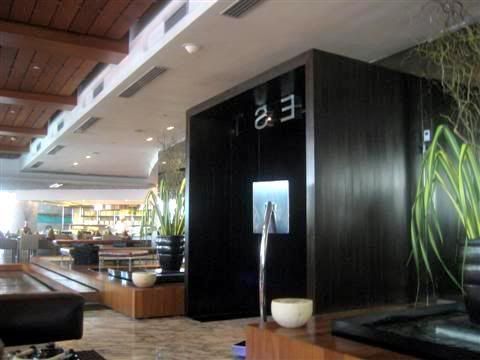 To start with, we were served with a complimentary appetizer platter.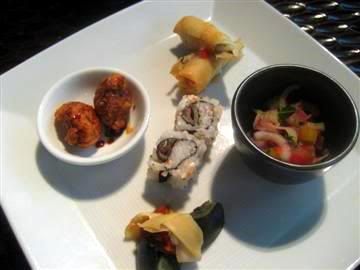 Complimentary Appetizer Platter: Century Egg with Ginger, Spring Roll, Maki Sushi with pickle, Chicken Fritters with sauce and a small bowl of thai-style salad.
Let's start ordering!
Starting with steamed items,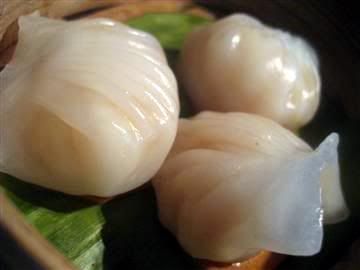 *Signature* Har Kau (Crystal prawn dumpling with shredded dried scallop) - Fresh and juicy prawns! I like!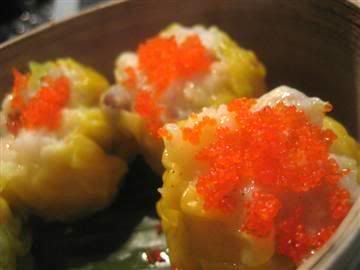 *Signature* Siu Mai (Shrimp and chicken dumpling topped with fish roe) - This is ok lar. More interesting are the vibrant colours of the generous sprinkling of fish roe on top.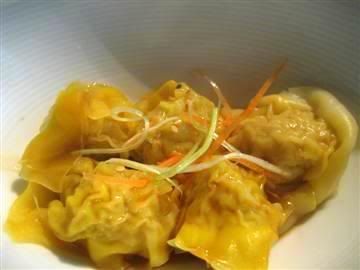 *Signature* Poached Beijing Style chicken dumpling with spicy sauce - Erm, what spicy sauce? But these are pretty alright too.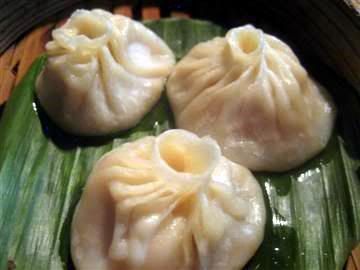 Shanghai dumpling of chicken and crab meat - Pretty good for a "non-pork" version of Xiu Long Bao. I would have more if I did not plan to allocate my tummy for other stuff on the menu.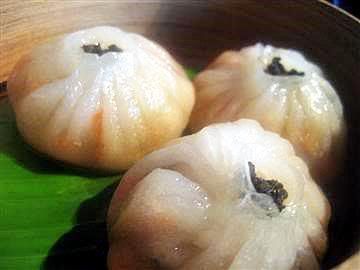 Pomegranate Dumpling scented with truffle oil (Vegan) - Sounds so fancy right? But nothing fancy about this dumpling at all! Rather plain, in fact.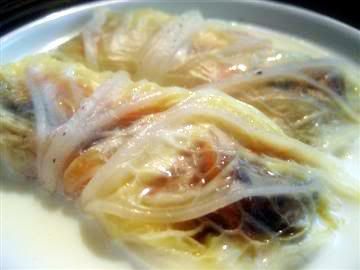 Steamed cabbage roll with mushrooms and soy bean paste (vegan) - This was much more interesting although they didn't look as pretty at the one above. Served with a little milky soup base, it was good and I also like the soup that it came with.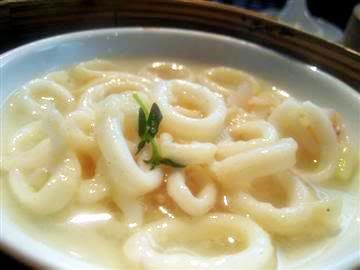 Squid in pungent garlic sauce - I was not really expecting anything but when it arrived, I was cuaght by surprise. It looked so erm, "mild" in contrast to its rather "exotic-sounding" description. Still, it was a pretty appetizing dish. Kind of peppery too. However, somehow it reminded me of "Maggi Mee in chicken flavour"...hehe
Stuffed glutinous rice dumpling with seafood and roasted duck - Despite its promising description, I was let down by this dish. Stuffing was pretty sparse too.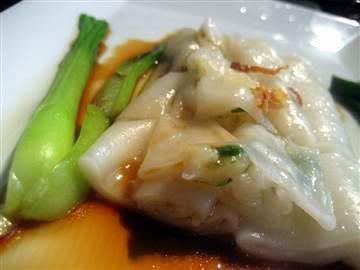 HK Style Chee Cheong Fun with black cod and parsley - Black cod? All I tasted was the "fun". But granted, the rice rolls were pretty silky and smooth.
And now for the fried and baked stuff,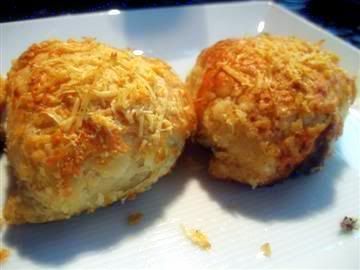 Flaky BBQ chicken pastries with parmesan cheese - I absolutely love, love, love this! My favourite dish during that meal.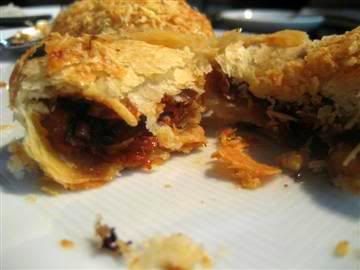 Flaky and buttery pastry encasing sweet bbq chicken and topped with cheese. A winning combination!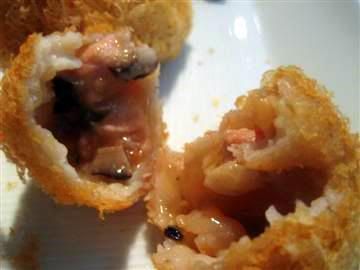 Taro Dumpling (wu gok) with seafood and chicken - Not so good. Stuffing rather sparse and also not very appetizing.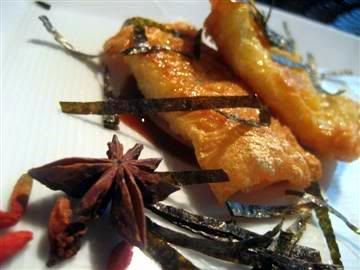 Bean curd sheet roll with seafood and cheese - Actually, I ordered sweet bean curd parcels with teriyaki sauce but when it came, I think they mistook the order. Too lazy to send it back and exchange, we walloped this instead. I don't remember this dish much, so must be pretty forgettable!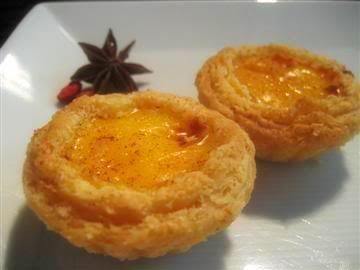 *Signature* Mini egg tarts with caramel and cinnamon - Yum..., I like this too! They were still warm when it came so imagine the delight in biting into one of these flaky tarts with a smooth and silky egg custard filling, nicely fragranced with a dash of cinnamon powder.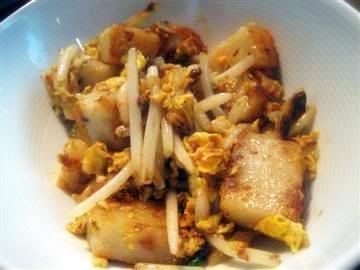 *Signature* Stir-fried turnip cake with belacan dish - Another signature dish but what an utter disappointment! It looked good but tasted burnt! Maybe they over-fried the belacan sauce. We just sent it back after a taste.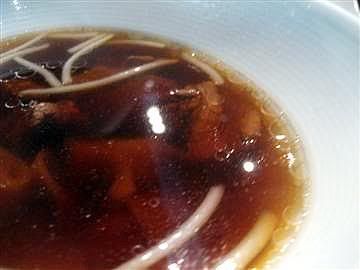 Vietnamese Beef Noodles - My friend was craving for something soupy and this was the nearest that she got in fulfilling her wish. Since we were full, she ordered a small portion of this wit minimal noodles. And they really followed her instruction, It came with just a few strands of noodles. *LOL* But I didn't like it. The soup was rather bland, the beef too chewy. Plus, tt was not hot enough.
Never say NO to DESSERTS!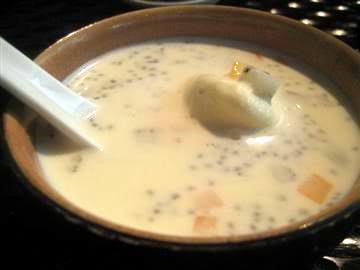 Basil pearls with mixed fruits, chilled coconut cream - It was good to have something cold after the heavy meal. This was not bad. The lump you see is actually a coconut ice-cream.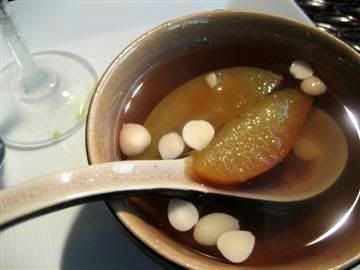 Chilled Double-boiled apple and aloe vera in light rock sugar syrup - Light and refreshing! But I don't like the taste of bitter almonds which were pretty evident!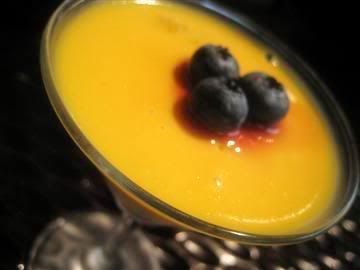 Fresh mango pudding - Topped with blueberries, it was yummy!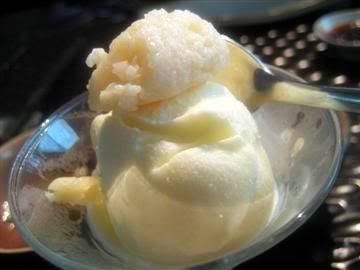 "Tapai Pulut" glutinous rice with durian ice-cream - Ah, the durian-lover me could not resist this. And it did not disappoint either!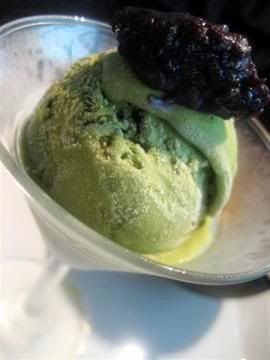 Green tea ice-cream, Japanese style - I assume the toppings on top was sweet azuki beans but if it was, it didn't taste like it. It tasted more like some kind of sweet bean sauce (something like the chinese "tao si", only sweeter). Weird...!
And oh, I should probably mentioned that we were happy with their service too.

Eest,
Westin, Kuala Lumpur.
* Starwood members are untitled to the usual discount for this brunch.
Click here
for previous post on Eest