Continuing my "pan mee" fetish, recently I finally visited this "pan mee" (broad noodles) shop in Taman Sri Sentosa that I have been wanting to try for a long time now ever since I read about it from
Boo's
and
Precious Pea's
blogs.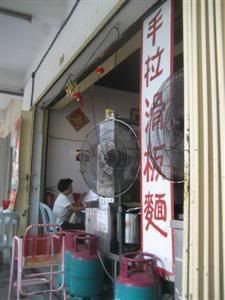 Exterior of shop. No proper sign board, just some chinese characters scribbled on a panel.
Armed with the direction guide from the afore-mentioned blogs, this place is not too hard to find although a bit obsure. My friend and I went at a slightly early lunch hour on a weekday, hence there were ample seats available as the normal lunch crowd had not fully descended yet.
My friend went for the classic pan me, cooked in broth while I chose the other style which is the dry or kon lou.
Classic pan mee cooked in broth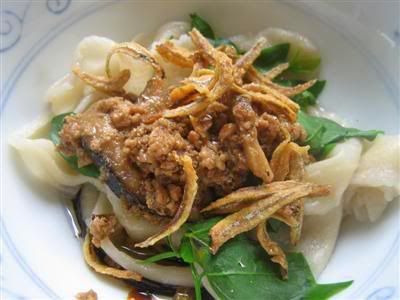 Pan mee "dry" style (served with one small bowl of clear broth on the side)
Both received praises from us. My friend liked the soup version. She thought that the soup was very "ching" (clear) and flavourful. On the contrary, I thought the soup although clear, was not flavourful enough (as in the anchovies stock was not rich enough). I love mine though. The dry version came with some minced meat, deep fried anchovies, leafy greens, chinese mushroom in a delicious black sauce. Mix everything together, it was utterly delicious! I requested for my usual preference which is the hand-shredded noodles (vs the machine-shredded noodles), I was told that they only have one style which is the "hand-pulled" style. The noodles came in long ribbon strands and were rather thick in texture. Because of this, it was chewy yet bouncy. Very nice indeed!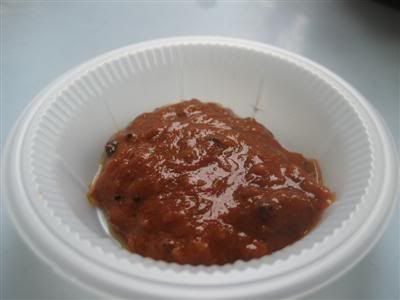 Chili sauce
The compulsory condiment to go along with pan mee is of course the chili. Different shops prepared them differently. My personal favourite is Lian Heng's style (aka minced cili padi). The chili sauce provided here is adequate enough although not remarkable. Cut limes are also provided so that you can squeeze it over the chili sauce to give it an extra zing.
Original Pandan Chicken
I also order their original-flavoured pandan chicken (also available in black pepper flavour). It was so aromatic when it reached our table. It was another winner in my books! Deep-fried succulent chicken, slightly crispy on the outside and tender on the inside. Also, it seems like it was stuffed with some kind of paste that reminded me of otak-otak. Not sure about this, but it was how it tasted like to me when I bit into the flesh.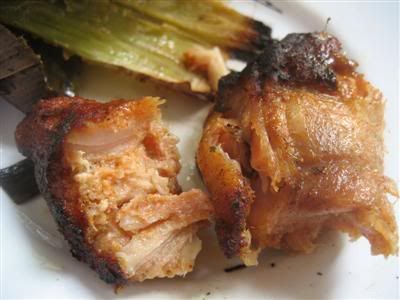 So far, so good, no? Oh well, I did have some gripes about this place. Firstly is their serving size. The pan mee is available in either BIG or SMALL serving size. Naturally, we ordered the small size but it was one of those rare occassions when I was actually taken by surprise to see how small the serving was (small bowl costs RM4.50). It should be re-labelled as XS instead.
Secondly is the "smell" of the surrounding. Not sure if this is the norm but when we were there, the air reeked of a foul "longkang" smell. Not sure where it came from as there was no sight of a rubbish dump near the shop and the surrounding looked "ok" enough. We sat near a blowing fan so that the stench wouldn't spoil our appetite. But other than that, I would like to come again for their dry pan mee and the pandan chicken!
Read about my other pan mee adventures here, here and here.