In the mood to make Nyonya-style desserts today:
First on the list,
Marble Green Bean Jelly
.
I didn't do the marbling effect well enough. Otherwise, it is a very cooling and refreshing dessert.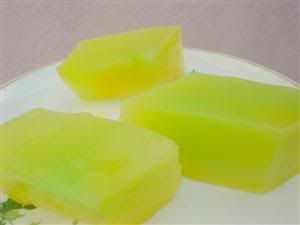 Next,
Kuih Talam
. Recipe found on Kitchen Capers (see side link) courtesy of Gina. Before this, I have a conception that Nyonya kuihs are very tedious to make. But Gina's recipe is very easy to follow. I would say definitely not bad for a first try although I would definitely use coconut cream for the top layer as suggested instead of coconut milk for a richer and better taste of the coconut layer.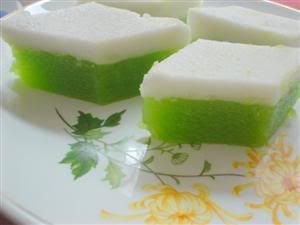 Last but not least,
Red Bean Cream Tongshui.
I wanted to make a cream style where all the beans were already mashed and blended. It was like how I intended it to be when I put it back into the Thermal Pot to keep warm but when I had it later in the afternoon, it was quite watery. Hmmm... I suspected my mom added water to the mixture as that's how she would normally cooked red beans - the usual watery style (as seen below).