It was a hot day. The kitchen felt like a 100-degree and I had to choose this day to attempt baking a Layer Cake. I knew it wasn't going to be easy. To achieve the multiple-layer effect of this cake, one has to bake each thin layer, layer-by-layer. This is the major reason why I never attempted this earlier.
However, I still remember the best layer cake that I ever tasted was baked by my aunt. Why was it so special? She used XO in the cake to enhance the flavour. It's so good, I tell you. So when I saw a
Layer Cake
recipe that contains brandy in a Recipe Book which I got as a gift
Each layer takes about 5-8 minutes, I decided to take up the challenge. I have to admit. initially I was 'shocked' by the amount of ingredients used. I just could not bring myself to bake a cake that requires 18 egg yolks and 375g butter! So what I did was I halved the recipe and bake it in a smaller loaf tin instead. Also, I substituted the brandy with XO Cognac.
The process was every inch as tedious and time-consuming as said to be. The batter needed 3 different preparations. Of course, the most tedious part was baking the individual layers. Each layer took about 5-8 minutes. And all this time, I had to keep watch in front of the hot oven in a hot kitchen to prevent over-browning of each layer. All in all, it took me a little under 3 hours to finish baking this cake (from start to finish). This cake by far is the most tedious and the longest time I took to bake a cake - ever.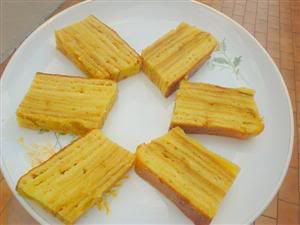 So, was the end result worth the effort? Well, presentation wise, I wasn't satisfied by the layering effect. I think there were some layers that weren't brown enough (I was just too impatient to wait longer). But taste wise, I have no complaint. Family loved it. Although to me, it wasn't as good as my aunt's legendary cake but definitely getting there. If it was for adult's consumption only, I couldn't help but to wonder how it would taste like if I poke holes in the cake right after it's done and drench it with more liquor. Hmmm.... Anyway, it would definitely be a while before I would bake this cake again.