It was a long weekend with Monday being a holiday (Worker's Day). Baked some stuff to keep their mouths occupied. Otherwise I shall have no peace.
Vanilla Madeleines
(recipe found
here
)
These were as good as claimed. I managed to take a bite but the rest was gone within 2 hours.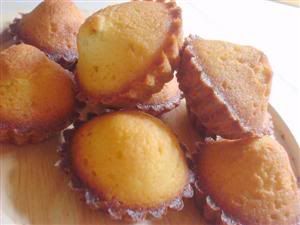 Sugar Butter Cookies
(recipe from latest issue of Appetite Magazine). Simple and nice! The kids helped me with cutting out the cookies. They had fun (although their poor aunt was starting to develop a headache by the time they were almost done).
Red Bean Ice-Cream
(recipe from kuali.com using condensed milk and evaporated milk). Smooth but slightly too sweet with the milks and red bean paste that I used).