Life's hard without a bread maker machine. My family had been deprived of fresh home-baked bread every morning since my bread machine broken down. The thing is, I am convinced it is not totally broken as the motor and the kneading blade is still working. It is only when the dough becomes heavy (e.g., mixing the liquid with flour), the kneading blade could not move. :-I But unfortunately, I have no idea how to fix it.
In the mean time, if we want bread, it has to be hand-kneaded. And this is the task that I dread the most. Try kneading bread dough on a hot afternoon in a hot kitchen and you will know what I mean. The amount of sweat is similar to 1-hour of gym class. And each time I hand-kneaded a bread dough, I would swear that was the last time that I will do so.
Anyhow, here's my latest (or last) attempt. A hand-kneaded
Sunflower Seeds Braided Bread
, recipe from a
talented baker on KC
.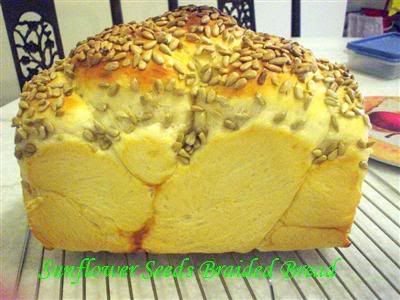 Can see the braid properly as it is covered by the sunflower seeds.