I was so free this afternoon. No gym classes to go and no other appointments. Naturally, I did what I like to do best, that is making stuff in the kitchen.
Here's what I churned out: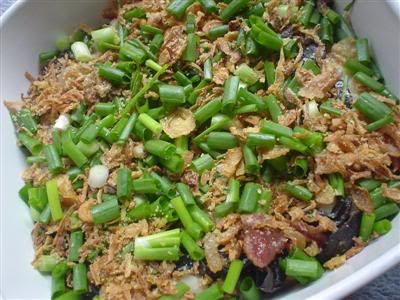 Cheat Chinese "Lo Bak Kou" aka Steamed Radish Savoury Cake (Chinese Bread Pudding Cake)
Cheat
as in the dough is made entirely from day-old white bread soaked in slightly salted water. Tasted quite like it as well except that I think I over-steamed it a bit and the texture was a bit too hard for my liking.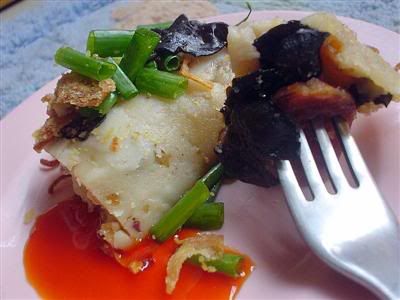 Also boiled some
Walnut Cream Sweet Soup
(tongshui). Recipe is by Betty Saw in one of her
Kitchen Recipes
book but it was not similar to those really thick and creamy type found in Hong Kong. But still decent though.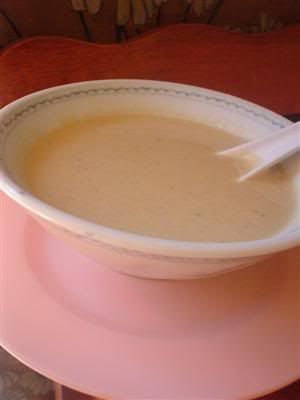 Recipe:
About 1 full cup of whole walnuts (or about 125g)
1/2 can of evaporated milk
400 ml water
1/2 cup sugar (or to taste)
1. Blanch walnuts in boiling water. Strain and let dry. Then roast them in the oven till golden brown.
2. Add walnuts and water into the blender and puree till fine. If you want a smooth mixture, strain it. I prefer mine with un-strained.
3. Put puree and evaporated milk into saucepan. Bring to boil. Then simmer for 1-2 minutes before adding sugar to taste.
4. Stir till sugar dissolve and bring to boil again. You may want to stir it constantly.
5. Simmer for another minute. Serve warm.
The night before, I
marinated
some
guava
slices. Original recipe can be found
here
.
(FAVOURITE RECIPE).
These are seriously good. I can't stop snacking on them. Highly recommended! Well, at least they are healthy snacks.