After a taxing RPM (studio cycling) class at the gym on Friday, my tummy was protesting and screaming "
Feed me, feed me!"
Popped over to this restaurant,
The Olive
at Plaza Damas in Hartamas which a friend recommended.
I was famished so imagine my misery when the waiter told us that we would have to wait quite a while as 2 big tables of patrons just arrived and ordered before us with full 3-course meals. I was already dreading this when I entered the restaurant and sensed that they were understaffed that night.
My friend and I ordered a m
ushroom soup
in the hope that it could be served first before the mains so as to appease our growling stomachs. Our hope was
in vain
. By the time our other friends joined us, nothing edible had arrived yet. No even a complimentary bread basket. As my other friends ordered, we saw a very appetizing pepperoni pizza (not listed on the menu though -
strange!)
so although I had already ordered a soup and a pasta main, I said yes when my friend suggested to share another pizza. In fact, I would have readily agreed even if he had suggested an entire cow because that was how hungry I was. And it was way
past
my usual dinner time, mind you.
So, we were definitely caught unaware when the food arrived
all at once
. Here they are: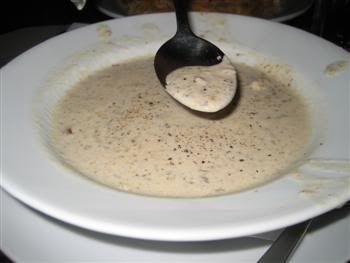 Home-made Cream of Wild Mushroom Soup. Nice but a tad too rich/creamy/milky.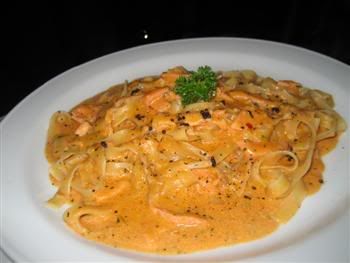 My friend's pasta: Fettucini Salmon in Tomato Cream Sauce (rather nice!)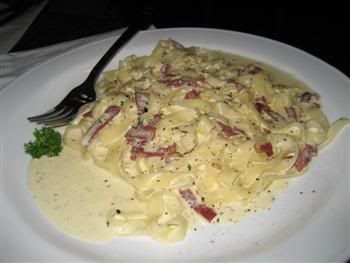 Another friend's order: Spaghetti Carbonara (this is good as well, not overly creamy)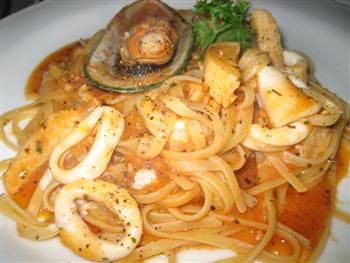 My order: Linguini Marinara (I wasn't too pleased with this. I like my Marinara loaded with seafood and comes in a red, thick and rich tomato sauce. This sauce is a little too thin for my liking).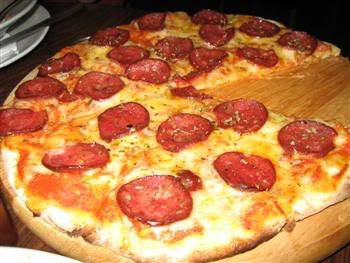 Additional Order: Pepperoni Pizza (I like my pizzas like this. Thin and rustic. Nice!)
Wanted but
couldn't
manage dessert after this.
The Olive Italian Cuisine
@ Plaza Damas, Hartmas
Tel: 03-6203 5832
___________________________________________________________
On the other hand, what I had at
sevenATEnine (Ascot, Jalan Pinang)
paled in comparison to my dinner at The Olive. Not in terms of quality and taste, but in terms of quantity and size...haha. What to do, my friends weren't eating and I would have felt uncomfortable to be the only person eating a full main dish when the rest weren't eating. So I ordered this: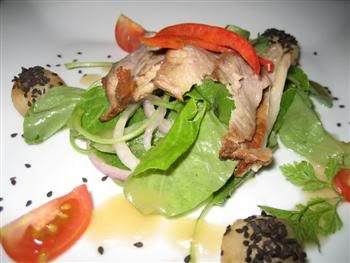 Smoked Duck Salad with Asian Pear
It tasted good and I like the asian-influenced dressing and the combination with the nashi pear and watercress salad. But although I wasn't expecting a big serving, I wasn't exactly expecting to see such a small serving. Probably finished the salad in less than 5 mouthfuls!
haha
.
Also, the menu had changed since the last time I dined there a couple of months back. It was scaled down and prices seems to be slightly higher, particularly for
non-mains
.
sevenatenin9
http://www.sevenatenine.com/main.html