Recently, I bought a very large packet of over-ripe bananas for RM1. I've learnt that I can freeze these bananas for later use. For those who would like to attempt this, please be advised that they will turn all brown in the freezer (looking like rotten fruits) and the flesh is really mushy when taken out from the freezer and removed from skin. But otherwise, this is really a convenient way to have bananas on-hand and are really ideal for use in banana bread/cakes.
I have tried several banana cake recipes that I like but I was looking to try a brand new recipe. I was quickly drawn to a recipe for "
Banana Coffee Muffins
" on
Jo's site
. After all, I can never say no to "coffee" anything.
Instead of making muffins, I halved the recipe and turned them into a loaf cake. First disaster happened when I was making the coffee mixture. I managed to scooped the last 2 tablespoons out from my Nescafe Gold coffee jar. Minutes later, I accidentally spilled the coffee mixture. After a quick search in the pantry, the best I could do was a Nescafe 3-in-1 Coffee pre-mix in RICH. To make it strong, I diluted it in half of the recommended water portion and also reduced the sugar in the cake recipe.
2nd "disaster" happened when I got worried at seeing wet dough after testing the cake for doneness more than an hour since inserting the cake into the oven. Another 10 minutes later, I thought what the heck, and removed the cake. After cooling and slicing the cake, I found the inside to be rather wet/moist. But OMG, it was really delicious. So rich with sweet delicious banana bits, this cake was easily one of my favourite banana cake. However, the coffee taste was merely a hint, but I've kinda expected that.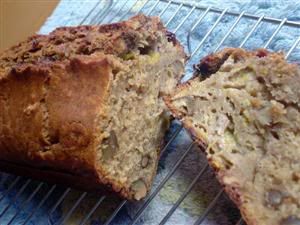 Later, I discovered why the cake was so moist. The full recipe calls for 3 bananas. The "smart alec" in me wanted for a richer banana taste so I used 4 bananas but conveniently forgot that I was making 1/2 the full recipe.
*lol*
But since I liked the end result so much, wouldn't you say that it was
a blessing in disguise?