In my continued quest to look for healthier alternatives and yet, get to indulge in my favourite food (
aka desserts in general),
I decided to try these 2
fat-free
recipes. And I am very glad that I did.
I call this
Fruits & Nuts Cake
(or so-called
Wallpaper Loaf
as found
here
). As mentioned in the recipe, I was initially pretty apprehensive when I prepared the batter. There seems to be less than sufficient batter for the mixture and fruits & nuts. If it wasn't for the pre-warning in the recipe, I would have thought I did something wrong somewhere. Also, I told myself to have confidence in the cake, convinced that I would love the final result. And I did! Very much so. It's just like eating a Fruits (
I used a mixture of dried apricots, red dates & golden raisins)
& Nuts
(toasted walnuts and almonds
). Obviously, the cake (un-cut) was far from the prettiest that I'd baked but I have to say, taste-wise, they are one of my favourite! Then again, once sliced, they are quite a sight to behold too.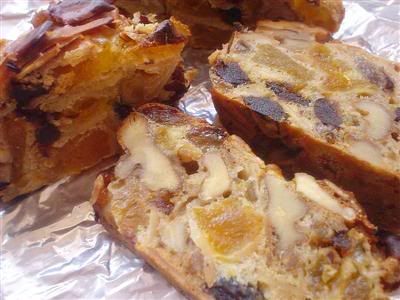 Guilt-free Fruits & Nuts Cake
The second recipe is from
KC
. Another much-raved about recipe. Its novelty lie in the fact that this is basically an
oil-free fried chicken wing
. How can this be, you may ask. But it is true. Not 1 drop of oil was used. It's simply baked in the oven. Moreover, during baking, more fat were drained out from the chicken (
to make it even healthier, if that's possible
). Taste-wise, let me just say that they were "
fingers-licking-good"
(to quote
Colonel Sanders
) when paired with sweet chili sauce. I walloped 3 in 1 go. And that must surely say something about these delicious morsels.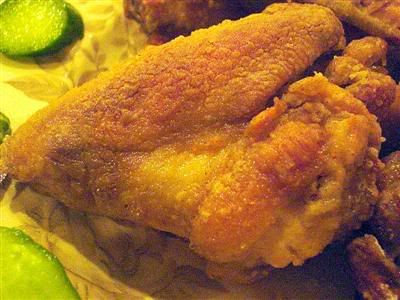 Oil-free Oven-baked Fried Chicken Wings