Woke up to a lazy Saturday morning. Been out late the night before and had a killer "Espresso Kahlua" cocktail. Usually, consuming caffeine late at night have no effect on me but I will usually be wide awake pretty early the next morning.
Which was why I woke up at 7am (can't sleep no more despite the fact that I don't have to work today) and decided to make breakfast for the family.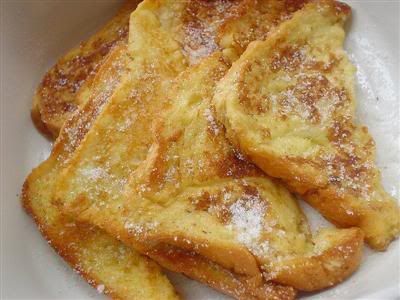 Classic Cinnamon French Toasts served with sprinkles of sugar - yum!
After breakfast, I had some time to kill before going to my usual Saturday gym class. Inspired by recent cupcakes-baking frenzy that I have seen on some of my favourite blogs, I decided to try a cupcake recipe that I have been wanting to try for quite some time. This recipe is said to be from
Magnolia
, the famous
NY bakery
most known for its cupcakes. People are known to queue for it the same way how we would queue for
say
, our favourite
rojak
sold from a van. Was it any good? Judging on how the kids savoured them, I have to say they must be pretty good! I did get more than a few licks of the buttercream frosting when I was preparing them and I have to say they are pretty addictive! But stay away if you can't tolerate sweetness though.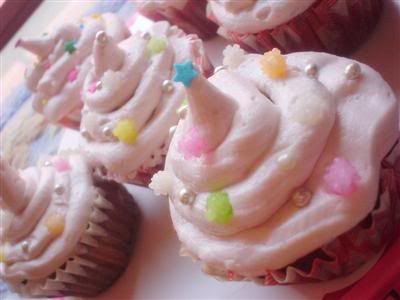 "Magnolia's Cupcakes with Creamy & Addictive Frosting"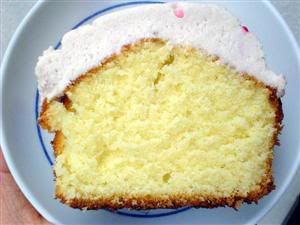 The next day, I was left with some un-used buttercream so I made another batch of cup-cakes. This time I made them in mini sizes and used
Nigella Lawson's fairy cakes recipe
. Very easy and very nice!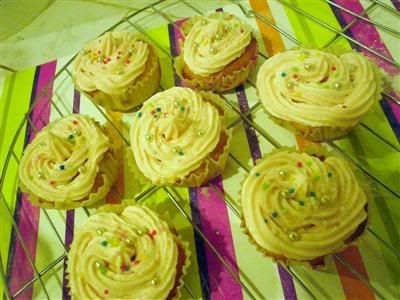 Mini orange cupcakes frosted with strawberry-flavoured buttercream.
Recipe for 9 or 10 mini muffins (based on recipe by Nigella Lawson)
Ingredient:
60g soft unsalted butter
60g sugar
1 egg
60g self-raising flour
1/4t orange oil
1-2T milk
Sift flour in a bowl. Add the rest of the ingredients except the milk. Mix with mixer until smooth. Drizzle in milk a little-by-little until batter is of pouring consistency. Pour into lined muffin tins till about 80% full. Bake in pre-heated oven (175c) for 10 mins or until top is golden brown and skewer comes out clean when tested on cakes. Cool completely on rack and frost.