Ok, time to try 2 much-raved-about recipes. Each in its own right.
One is hugbear's Mango Pudding on KC (see sidebar for link). I substituted whole milk for the whipping cream, as I didn't have any on hand. Result? Yum..., silkly and creamy. Very good. I can imagine that I would be even creamier had I used whipping cream as per original recipe.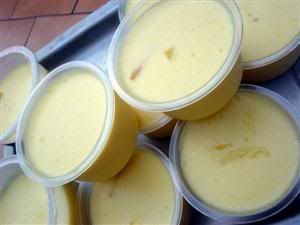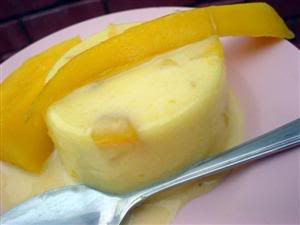 The next recipe is a marble cake recipe that used Kahlua and orange juice. I was so taken with a picture of it in the recipe. Also, I have been wanting to use my new bundt pan. So although the recipe was quite complex, I set about making it. All seems to be going well. The delicious aroma of the cake baking that wafted into the house heightened the anticipation.
But alas, when I took the cake out, the sides and bottom were burnt! Only then I realised that I forgot to turn down the temperature as the pan I used was those grey "so-called" non stick type and basically for these type of pans, I need to lower my oven temperature. So there went my hope for a beautiful looking cake baked in a bundt pan. I had to perform
major surgery
to cut away the charred bits. Luckily, the inside was unspoiled but then,
my mood wa
s.