Nice with a big cup of coffee!
Mocha Wholemeal Raisin & Walnut Buns
.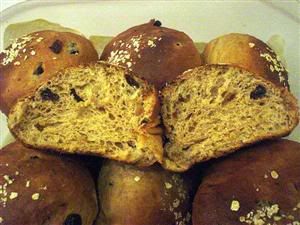 Recipe given by aunty:
310g bread flour + 40g wholemeal flour (sifted)
1/4t salt
1/4t Softpro
9g instant yeast
30g sugar + 20g brown sugar
40g softened butter
1tsp instant coffee diluted in 1/2 cup warm milk
1-2 T cocoa powder
1 egg (lightly beaten)
At the beep for adding fruits & nuts: Add 30g toasted walnuts and about 1/4c of raisins. (Add more or less to suit your taste)
Put everything in the breadmaker machine in order recommended by your breadmachine manual. Knead until dough is eleastic and not sticky. Take out and roll it out into a rectangular shape on a floured surface. Roll into a log shape and cut into 60g portions. Shape each portion into a ball. Cover and let rise until double in size. Brush top with water and sprinkle with some oats. Bake in preheated oven at 190c for 12-15 minutes or until nicely browned.