Finally... A perfect loaf of
simple sandwich bread
. Despite baking so many breads before (almost daily), this is the first time I shaped a perfect loaf. All this while, I had always used my trusty bread-machine, which is simple and hassle-free; but resulting in odd-shaped loaves. Far from the first time of having bake a loaf of bread, I still can't keep my eyes from this loaf.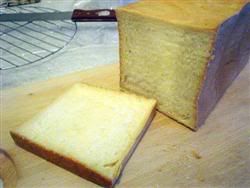 Fresh from the oven: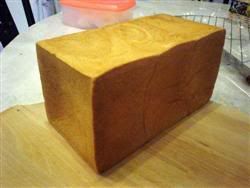 On a
less successful
note is this
Coffee & Chocolate Chip Cake Bread
. The original recipe yields 2 loaves, and since I planned to only make 1 loaf, I halved the recipe. Unfortunately, the sponge dough did not seem to be quite enough, as you can see below. Still, it is rather yummy.