Accidental - yes
. And I mean it in a "
literal
" way.
Sunday afternoons call for testing of new recipes. After all, Sunday evenings are
(un)
officially family dinner night. Mom gets a day off from the kitchen while SIL and I slave away to prepare dinner
(although most of the time, she cooks and I bake)
.
These are my picks for today.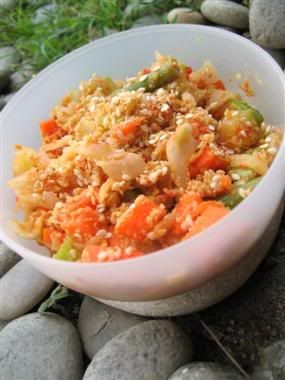 Healthy Acar (Pickled Vegetables) Salad
Ingredients:
Garnishing:
- Roasted white sesame seeds
- Fine or coarsely chopped roasted peanuts
(Either dice or cut it length-wise into 1" length) the following:
1 cucumber
1 carrot
1 small head of round cabbage
200g or 8-10 ropes of long beans
Diced canned pineapples
(optional) any other suitable vegetables of your liking
Method:
1) Mix carrots and cucumber with some salt. Put aside for 1 hr. Drain.
2) Blanch cabbage and long beans in boiling water. Drain.
Sauce:
1) Juice of 2 lemons mixed with 2T of sugar (or more) and a pinch of salt
2) 2 stalks of lemongrass (diced)
3) 1/2 stalk of bunga kantan (diced)
4) 5 red chillis or more (seeds removed and diced)
Method:
Pulse (2, 3 & 4) in a blender or food processor until fine. Combine with juice mixture. Set aside.
Salad Method:
In a large bowl, toss all the prepared vegetables with the sauce. Add handfuls of sesame seeds and peanuts (or you can opt to add this upon serving). Transfer to a contained and chill in fridge overnight.
* If you want it sweeter, than just add more sugar when tossing the salad.
Also, I tried out 2 recipes by Gina from KC.
Oven-baked Balsamic Chicken
and
Grilled Tumeric Chicken.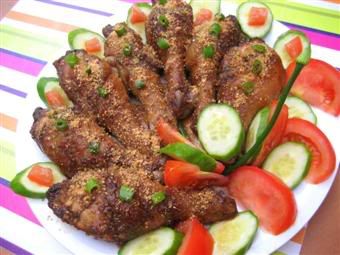 Oven-Baked Balsamic Chicken (family size serving)
Oven-Baked Balsamic Chicken (small serving)
And then, the
'accident'
happened. I was re-heating up some of the marinating sauce in the microwave. Only wanted to heat them up a wee-bit but I forgot the time and over-heated them so by the time I removed it, it was steaming hot. I brought it to the dinner table and was standing behind my SIL when she suddenly turned, bumped into me and caused the sizzling 'sauce' in the bowl to spill onto my left hand. My left wrist was scalded. For the next 30 minutes, I was seeing
'stars'
.
Oh, man...
, it was painful even though the burnt area was small. Within hours, blister the size of a 10-cent coin formed on my wrist. Ouch
!
Not to mention I now bear discoloured burnt marks on my wrist...
*boo-hoo*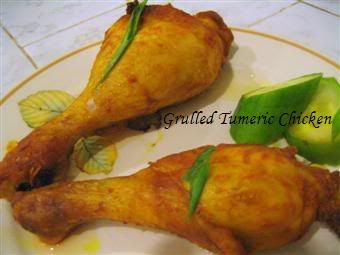 This picture was taken 'post-accident'. I was still in pain, hence my hands were shaky. Couldn't be bothered with the lighting too.
Back to the chickens, I prefer the Tumeric to the Balsamic Chicken. Nicely crisped skin with juicy meat, highly fragrant and delicious. The Balsamic Chicken was alright too but I was already taken with the flavour of the Tumeric Chicken.
So there you have it, my
'accidental'
Sunday.