Theme of the day - the colour
green
! As in pandan leaves and kiwi fruits.
Get it???
Ok, bad joke aside. All I wanted to make for today was the Pandan Custard Red Bean Buns. But since my maid plucked additional pandan leaves from our garden, I used the extra to make one of my family's all-time favourite, the Pandan Chiffon Cake.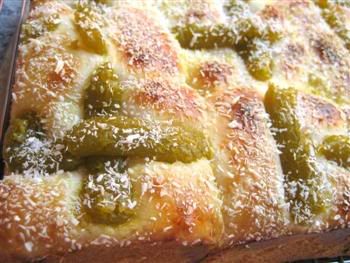 Pandan Custard Red Bean Buns
Rather simple to make. Just use your favourite 'sweet dough recipe'. After the first proofing, divide into 50g rounds. Rest for 10 mins.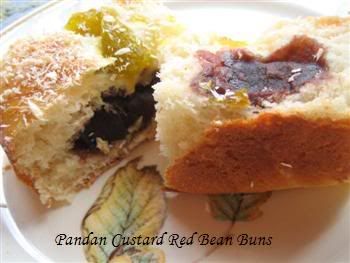 Wrap each with about 30g ready-made red bean paste. Arrange in a greased pan and let it proof for about 45 nins. Prepare some custard with pandan juice. Pipe onto the buns. Brush 'un-piped' area with egg wash. Sprinkle top with dessicated coconut. Baked in pre-heated oven at 180-190c for about 18-20 mins, or till done.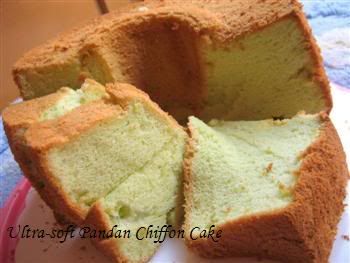 Pandan Chiffon cake.
I usually reduced the sugar from the qty stated on the recipe for my chiffon cakes. But this time, I accidentally forgot to add the portion reserved for the egg yolk mixture. That is like 50% of the total sugar portion required for the recipe! I was screeching like a mad woman when I saw the bowl of sugar sitting on my counter about 5 minutes after I put the cake into the oven to bake. Was half-tempted to just dump the entire load in but then I thought -
what the heck
, let's just give this severely sugar-reduced attempt a try. And surprise! It was good. The lack of sweetness was evident but only subtly so. I think from now on, I would bake my chiffon cakes with this sugar ratio.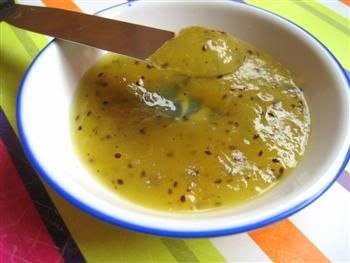 I had some extra time to kill so decided to make this simple & easy
Kiwi Apple Jam
, using the microwave. The jam can be done in less than 15 minutes. Recipe found from
this
cute blog.