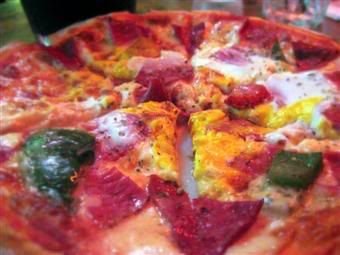 Pizza Uno's AUSSIE pizza (small)
My first visit to this quaint pizza & pasta place was way back when it first opened quite a number of years ago
(long before it started branching out).
I remember my first impression was the price was rather cheap for good quality and authentic pizzas and pastas. The shop used to be very crowded to the point that you will often see a small crowd of people waiting for tables outside on the pavement. It was not a surprise that it became rather legendary especially among Subang folks. Since then I have been back a few times but much lesser recently.
I went back last week. A friend dropped by and we wanted to go another place but it was closed, so I suggested to her this "
cheap and delicious pizza place
".
It was a weekend night and the shop was quite crowded but not like its yesteryears. We sat outside under a
big 'red' umbrella
(
you will see how this became an important fact later
). The waitress who served us was pretty knowledgeable (
thank goodness not one of those non-locals or even locals who just gave you a blank stare and a frown
). She suggested some specials of the day but since it was my friend's first time there and mine too after a LONG time. we opted for their staples instead. We ordered a jug of
Sangria
to share (
after working it out that 2 glasses of house wine would cost the same
) and also a
Marinara Pasta
with home-made spirelli and a small
'Aussie' pizza
with beef bacon, salami, capsicum and egg (
see pic above
).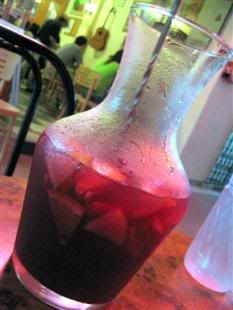 Sangria
Sangria came first, it was rather diluted but taste-wise, quite alright. Would say, better than average (
but definitely not in the same league as Prego's, which makes the best-ever sangria
).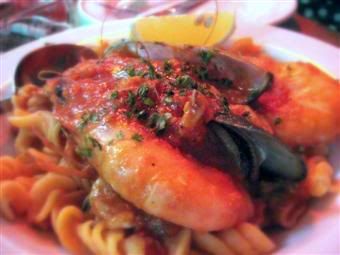 Home-made spirelli Marinara
Both my friend and I share a similar favourite pasta, which is Marinara. Hence, we have high standards on what qualifies as a good
Marinara
.
Pizza Uno's
Marinara
hasn't quite make it to our list of favourite
Marinara
. Firstly, the sauce was a bit watery and slightly too sweet. We like our sauce to be thick. Not a lot of ingredients too, just 2 large prawns, 2 mussels and I really couldn't remember anything else. The
Aussie
pizza fared better. Adding an egg to the pizza was a bit uncommon but I like it together with the salami, bacon and capsicum (
and I like how the egg created a "bull-eye" effect on the pizza -

hehe
). It kind of reminds me of a standard Aussie breakfast fare in a pizza form.
Sadly, the price is no longer considered cheap. Sangria costs about RM30 per jug (this price is ok la), but both the small-ish pizza (about 7" or 8") and pasta costs about RM19 and RM25 respectively. We ended up paying about RM42 per person. My friend asked me, "
I thought you said this place is cheap
?" I could only mumbled, *
ahem...*Now what about the "red umbrella" effect that I mentioned earlier? Well, notice how all the photos taken have a red-ish tint?
Pizza Uno
USJ, Taipan Triangle 4, Jalan USJ 10/1B (Taipan Triangle), Subang Jaya.
Tel: 03-5633 0721