I seems to be having luck when trying new cookies recipes recently. Almost all were really good! And I am not saying it just because I baked them...
(ahem...)
Anyway, here's the latest recipe that I tried,
Chocolate Cookies with Peanut Butter center
.
~

(FAVOURITE RECIPE)



Chocolate? - Checked!
Peanut Butter? - Checked!
Cookie Ecstasy? - Checked!!!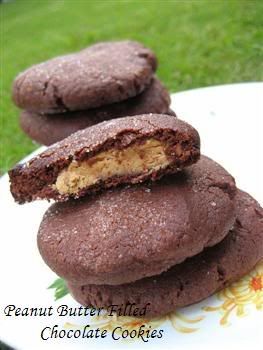 Based on this recipe. (Sugar reduced . Also, used Van Houten Cocoa Powder. Anyone knows where to get 'Dutch-processed Cocoa Powder' in KL?)
In addition, the kids have been requesting me to bake some madeleines. They like the
previous
batch that I baked for them. To try a new flavour, I substituted vanilla with
orange oi
l and added
chocolate chips
. Funnily, these were less popular than the plain vanilla ones. I guess they are less of a fan of orange than vanilla. Oh well, at least I don't have to fight with the kids for these madeleines.
*grin*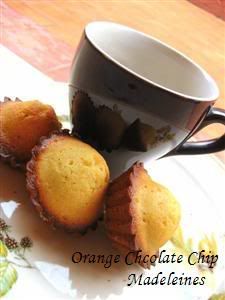 By the way, in the interest of 'good photography', the first picture was taken outdoor to catch the last of natural sunlight before dusk sets in. When my mom saw me, she said alarmingly, "What are you doing crouching on the lawn?" And typical of her, she added, "The neighbours would think that I raised a mad daughter..." Maybe
a little mad
, but also talented -
yes?