I stood by my promise, my
promise
to return to
Eat Work Shop
to try their lunch menu.
Followng my
first foray
to this
"not-much-known"
eatery recently and subsequent rave over my dinner there, I have been restless in wanting to make a return trip, particularly for lunch. I finally did, and dear readers, you get to read about my largely satisfying lunch there.
Surprisingly, I feel that their lunch menu offers a wider variety than their dinner menu. There are quite a good selection of light bites, salads, sandwiches & burgers, pasta as well as fuller main courses. I was later told that a different chef presides the kitchen during lunch time. In other words, you can't order from their lunch menu during dinner time because the chef would be different.
As much as I would like to order the
Baby Ribs,
but I didn't want to risk falling flat on my face later at work (
from dozing off - hehe
). It was a weekday lunch after all. So my lunch companion and I shared: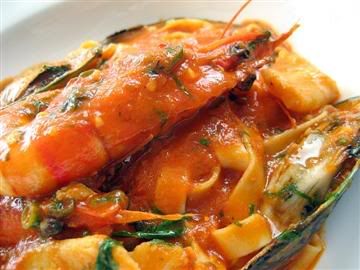 Spicy M Pasta
To me this is a lightly spiced version of Pasta Marinara. Pretty chockful with fresh seafood, and I like the slightly thick and creamy chilli tomato sauce too. However, I would fall short of calling this dish 'spicy' though.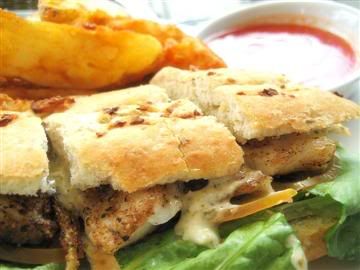 Grilled Fish Sandwich
(Forgot exact name but if I am not mistaken, it sounded something like
"Blackened Fish"
sandwich or something -
no?)
When asked, the waitress told me that this is served on toasted focaccia. But when it arrived, it didn't look like it. But focaccia or not, it was mighty tasty. Lightly seasoned grilled fish with just a tad of (homemade?) tartar sauce sandwiched between toasted
(focaccia)
bread, served with thick potato wedges which were also done just right, neither soggy nor lame. Another thumbs up!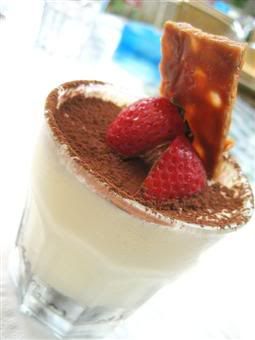 One thing lacking from their lunch menu is a desserts section but you can just take your pick from their cakes counter. We debated between the
Chocolate Banana Cake
and the
Tiramisu
and finally settled on the latter. The Tiramisu was served in a glass. Layers of mascarpone on top of a brownie-like base, and finally topped with a generous sprinkling of chocolate powder, sliced fresh strawberries and a piece of what tasted like peanut brittle. It was a creamy and a luscious version of Tiramisu but sadly,
sans alcohol
which to me, is pretty vital to a seriously good tiramisu. The brownie-like base was also kinda feeble to the otherwise luscious dessert. But don't get me wrong, it was still a rather decent tiramisu.
So that concludes my lunch at Eat Work Shop. If my office is nearer, I would be a regular face at the restaurant. Luckily, I stay nearby so I would definitely find more opportunitites to make more visits.
EAT WORK SHOP,
9 Jalan Peguam U1/25, Glenmarie Business Park, Shah AlamTel: 03-5569 7763
(Closed on Sundays)