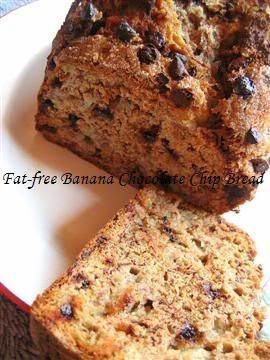 Fat-free?
Surely
not
? But
yes
, they are.
No
butter, margarine, shortening or oil of any kind. And, if you exclude the eggs
(if you are concerned, just use 2 egg whites instead of one whole egg)
and chocolate chips. But then, the amount of fat that these contribute is negligible, right? I would like to think so. And
no thanks
, please don't come and
enlighten
me.
Anyhow, they are good for breakfast, particularly when toasted until just a
tiny bit burnt
around the edges. Really!
Based on recipe by "
Everybody Likes Sandwiches
"
3 medium to large ripe bananas, mashed
2 large eggs (or 2 egg whites + 1 egg)
1 1/2 c plain flour
3/4c sugar (1/2 granulated sugar + 1/4T organic molasses sugar)
1 t baking soda
1 t pure vanilla paste
1 T cinnamon powder
6T semi-sweet chocolate chips
Topping: 2T sugar (white + brown/molasses) mixed with cinnamon and 2T chocolate chips.
Method:
Mix mashed bananas with eggs and combine thoroughly. Add flour, sugar, baking soda, vanilla paste, cinnamon and mix well. Add chocolate chips into the batter. Pour batter into a greased and bottom-lined small loaf tin (about 8x4 inch). Sprinkle with toppings. Bake at 180-190c for 40 minutes (cover top with foil if top browns too fast) or until skewer test comes out clean. Remove from pan and cool on wire rack.