Yum, yum, yum
. I like chickpeas. Love to get them freshly steamed with a hint of spice from 'kacang puteh' stalls but sadly, they are not so easily available these days. Chickpeas are also great lightly tossed with mixed vegetables salad. They are really pretty versatile. But it was my first time coming across it being used in an Asian-styled chilled pudding when I saw
this recipe
. Naturally, I have to give it a try.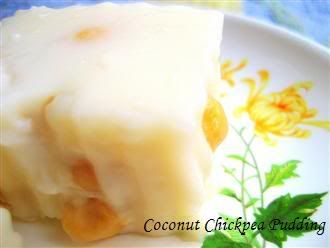 And I wasn't let down. It was good! An ideal dessert to eat on hot afternoons! My mom couldn't stop snacking on these. Do givc
this recipe
a try. Here are my comments on the recipe:
- I halved the recipe but added an entire can of chickpeas (rinsed).- Texture is very soft. It won't hold in your hand.