This is another kopitiam that I have been wanting to try.
I finally did but sadly, I wasn't impressed at all.
First of all, the food seems to take ages to come. Granted it was lunch on a weekday but the place was slightly less than half-filled. Secondly, the half-boiled eggs were more like quarter-boiled eggs. Not a pleasing sight so I didn't take any photo. We sent it back. Minutes later, they gave us another plate. Alas, the eggs were slightly more than 'quarter-boiled'. But we were famished so we just swallowed our disappointment and whacked it. Surprisingly, the toasts were the last to arrive, (after our nasi lemak and mee siam). We actually ordered a toasted bun but were given plain toasts instead. Again, we were famished so we just had that instead.
Verdict? Everything was 'so-so', I thought. My kopi was average and so was the mee siam, although I liked the 'sambal' which was sweet and spicy. And I find them rather pricey too.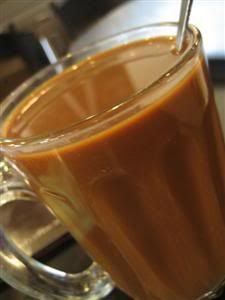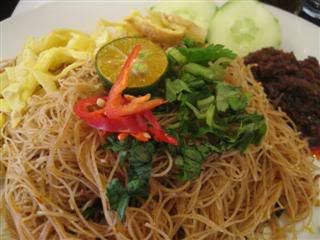 My 'kopi' and 'mee siam'
Kluang Station
Ikano Power Center (opposite Harvey Norman)