First, I was intrigued by the name. The name alone contains 2 of my all-time favourite past time, "eat" and "shop".
Err
, can't say the same for the
other remaining
word in the name. Anyway, I always have a penchant for Australian-styled or Aussie-influenced cuisine/restaurant. (
The chefs were trained and had worked in Oz.)
But seriously, I was glad that I gave this eatery a try.
They say, "A picture speaks a thousand words!" Well, everything you see here was as good as it looks.
(I hope my photos did the food justice.)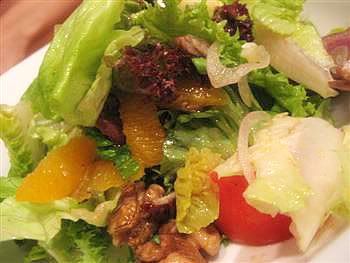 Shared Starter
:
Smoked Duck Salad with Honeyed Walnuts & orange
(I like the smoked duck, not overly salty or fatty. Most importantly, no gamey taste).
Mains Ordered: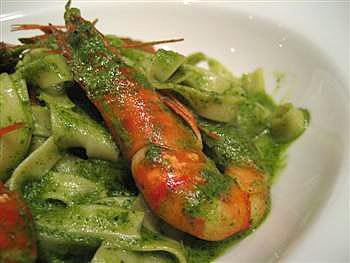 Pesto Prawn Pasta
(I can't get over how gorgeous this dish looks! Pasta was cooked really al-dente, and pesto sauce was good too. Second on my list of favourite pesto sauce, next to Nero Vivo.)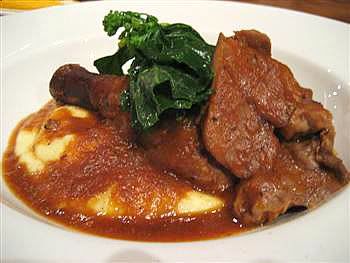 Braised Lamb Shank on a bed of mashed potato
(Generous serving. I thought it tasted good although I don't really like lamb shank. You might have thought a guy ordered this – wrong! Nowadays, ladies can out-eat men anytime. Women rule!)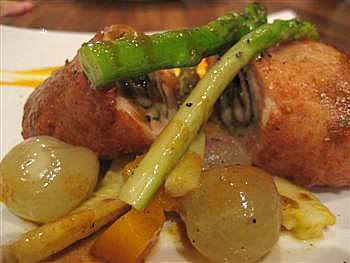 Chicken – 'something"
(Aarggh! Somehow the name of this dish escaped me at this moment. Pretty similar to Chicken Cordon Bleu. Anyway, it is bread chicken rolled with seaweed and some cheese.)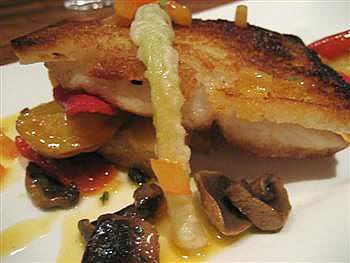 Breaded Dory Fillet
(From the desc in the menu, I would have thought it is some version of Fish & Chips. After all, it said "Breaded Dory". But surprise, surprise! It is literally 'breaded dory'. A piece of toast on top of (pan-fried?) dory.
Getit?
My friend who had this gave it thumbs-up!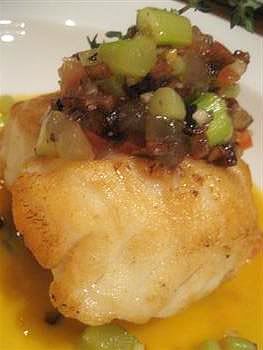 I had the night's special. Ta-ta-ta-ta….:
Seabass on pan-fried risotto
. (So glad I chose this! Generous cut of fresh seabass. Meat was succulent and juicy. The accompanying sauce was fantastic - slightly sweet and citrusy. The risotto was fried till crispy on the outside but still chewy on the inside, tasted like those Chinese Deep-fried Glutinous rice snack).
*lol*

Exhilarating ending
: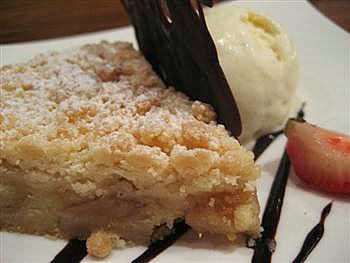 A
pple Crumble served with ice-cream
(pretty average) and
Chocolate Fondant with ice-cream and pineapple jam.
Decribed as
pièce de résistance,
and rightly so.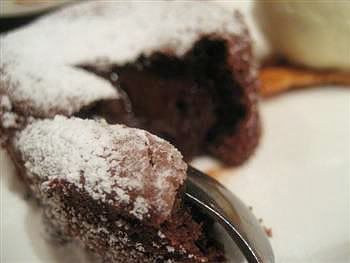 Melting warm chocolate sauce in moist chocolate sponge. Coupled with the vanilla ice-cream, I could only sighed with contentment. I think adding the pineapple jam on the side gave it a very interesting touch.
Eatworkshop
also serves breakfast and lunch. Lunch menu looked very, very interesting. I definitely have to go back for lunch soon. Ambience-wise, it was
erm,
interesting. Located in a very 'uncommon' neighbourhood for a restaurant. Both alfresco and in-door dining are available. We were a party of 6 and were seated at a long communal table, a typical feature of contemporary Australian bistros and cafes.
EAT WORK SHOP,
9 Jalan Peguam U1/25, Glenmarie Business Park, Shah Alam
Tel: 03-5569 7763 (Closed on Sundays)
Here's another review by masak-masak