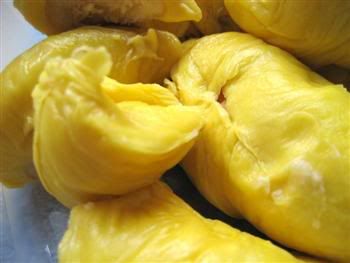 Ah, durians, how I love thee.Some people say you are stinky,But I think you smell heavenly.Although your body is so thorny,But your golden yellow flesh is "oh-so-lovely".Ah, durians, how I love thee.
Haha, sound so cheesy, I know. But I truly love durians! In fact, to the horror of some, I can have a meal that consists of only durians and steamed white rice and nothing else. For those who shudder at the sound of this, you don't know what you are missing. It's your loss, I kid you not.
(hehe)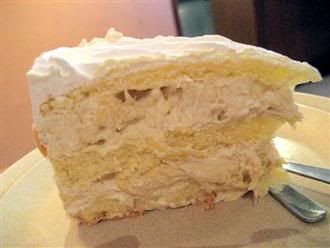 A close second is
Bon Bon's
famous
Durian Cake
. This cake is seasonal too, as it is only available during the durian season. After all, it is claimed that only good quality durians are used in the cake. I don't doubt it as it really feels like eating fresh durian in a cake. Generous chunks of delicious durian flesh interlaced with feather-light whipped cream in between layers of cottony soft sponge. The sprinklings of toasted almond flakes provided a nice contrast to the cake with an addictive crunch.
This cake truly rocks, man!
Those in the know would not be surprised that at its peak, the order list for whole cakes could stretch to 2 weeks. And if you are lucky, you would get to order this cake in individual slices when you dine-in (strictly subject to availability). When the demand is high, take-aways are not even allowed. My only gripe is that the slices seem to be shrinking in size over the years.
Is the cake worth
all the fuss?
Definitely!
Bon Bon's Cafe
(adjacent to Atria Shopping Complex, Damansara Jaya)