One of the greatest irony for me was something that is fat-free and thus, deemed as being healthy but yet ladened with high-dosage of "unhealthy" sugar. Does this still classify the dessert as being healthy? To some, it could even be worse than
not being
fat-free
. But to a sweet-toothed person like me, this fact is a good enough reason to dig-in.
Yeah, Like I needed any. *grin*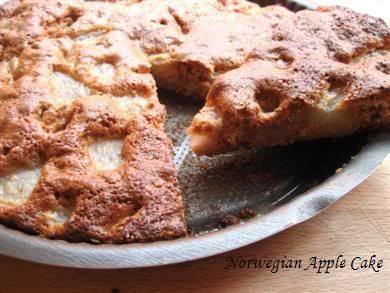 Norwegian Pear & Walnut Cake
(I made a mistake in labelling the photo above)
One bite into the crusty exterior and soft interior, ladened with chunks of pear and walnuts, you will easily fall in love with this cake.
Based on the
recipe
from "Everybody Likes Sandwiches" blog, my version is as follows:
1/3c sugar + 1/4c demerara sugar
(reduce more if you like)
1/2 c plain flour
1/2 t salt
1 t baking powder
1 egg
1 generous cup diced pears
1/2 c toasted walnuts, chopped
1 t cinnamon powder
1. In a bowl, mix together the sugar, flour, salt, and baking powder.
2. Break an egg into the center of the mixture. Combine well.
3. Mix in pears and nuts. Pour mixture into a greased and floured 8" pie pan.
4. Bake 20-25 minutes at 175c (pre-heated), or until edges are crispy and pulls aways from pan.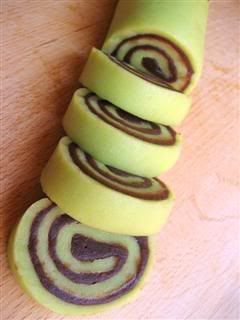 Chilled Pandan Red Bean Rolls
(FAVOURITE RECIPE)
(Recipe can be found from JoDeliBakery: see side bar for link)
This is like a "rolled" version of snow mooncake. I like them a lot! Best eaten just chilled from the fridge. Once it reaches room temperature, it may be just a bit cloyingly sweet.