Lunch time at KLCC.
The obligatory question of
"Where to eat?"
came to mind.
I had a few suggestions but the steak-lover (my brother) already made up his mind.
San Francisco Steakhouse, he said.
My first thought - "
Aiya....
". Honestly speaking, that place has not impressed me so far. Then again I seldom eat steak let alone crave for steak. But I wasn't about to make a fuss since I was hungry and just wanted to put some food into my stomach.
Anyway,
I happened to have my camera with me so I managed to take a few shots of our lunch.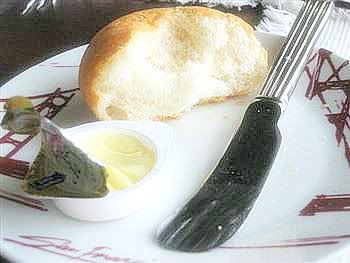 The complimentary bread roll. I like the fact that it was served warm.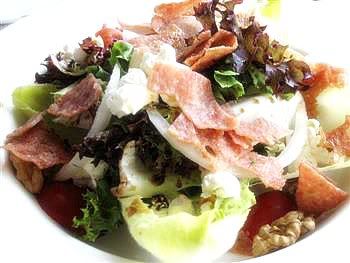 My Popcorn, Crispy Turkey Ham, Walnuts and Radish Salad. I was taken with the description but actual product fell short of expectaton but it looks beautiful here, doesn't it? Dressed with what looked like simple balsamic vinegar.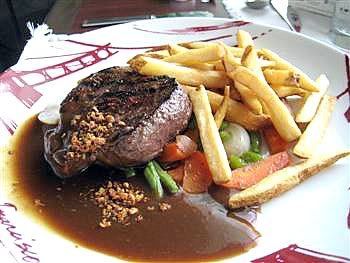 He had Steak (I forgot which cut) with Brown Garlic Sauce served with a side of stir-fried salad and chips. Medium done, it wasn't bad. Pretty good actually.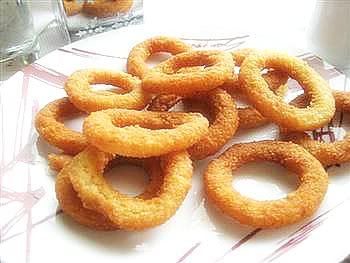 Side order - Onion Rings. Exactly 12 pieces. Portion looked so measly served on a large plate. Would be better if they served this in a basket instead. I prefered the chips on his plate (see pic above). Thick cut and fried just right (aka not soggy).
What I like
: Strategic location as it overlooks the KLCC park. Beautiful view on a bright sunny day (provided that the blinds are not pulled down).
What I dislike
: Still not impressed with the food. And the service could be better too. The waitress who served us was pretty sullen-looking. Or maybe I over-exhausted her with my relentless questions about the menu which unfortunately, she wasn't really knowledgeable. For example, when asked to tell me more about the the salad which I eventually had (see pic above), all she could muttered was "just some popcorn, turkey ham on top of some salad" Yeah, like I couldn't read that from the name of the dish. "What's the dressing used?" I implored further at the risk of really exasperating her. She shrugged and said she wasn't sure (aka dunno lah). To give her credit, she did apologize. Or at least I think she did.
San Francisco Steakhouse @ KLCC. (Upstairs)
ps: By the way, they do not serve Set Lunches there. If you want a Set Lunch, you have to dine 'downstairs'.