I was browsing through my ever-growing collection of recipe books. Came across this one titled "
Simple Slices" by Women's Weekly
which I have not tried before.Was looking for a quick recipe to bake so I chose one that is originally titled "
Pepita & Sesame Slice
". Seems that Pepita is another word for Pumpkin Seeds.
Basically, the bottom layer is made up from wholemeal flour and pumpkin seeds. I added sunflower seeds. The top layer is actually caramelized apricot jam (
didn't have this so I used pineapple jam)
with sprinkles of pumpkin, sunflower and white sesame seeds (
again, didn't have white sesame so used black sesame seeds
).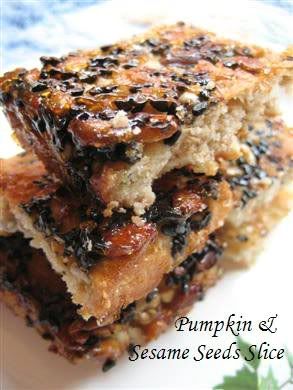 End result? Very good! Full of nutty goodness - very nice to chew on!
Recipe (adapted from Women's Weekly Simple Slices)
- 45g butter
- 1/2t lemon oil or lemon zest
- 1/2 egg or 1 egg white
- 1T sugar (add more if you like)
- 50 g plain flour
- 40g wholemeal flour
- 40g toasted mixed seeds (I used pumpkin and sunflower)
- 40g apricot or pineapple jam
- 1T toasted sesame seeds (either white or black)
Method:
1. Grease and line a loaf tin (make sure to extend the ends of baking paper for easier removal after baking)
2. Spread jam evenly on base. Sprinkle with sesame seeds and 1/2 or 1/3 of the mixed seeds.
3. Beat butter, lemon oil/zest, sugar and egg till light and fluffy. Stir in sifted flours and remaining mixed seeds.
4. Press mixture into prepared pan.
5. Bake in pre-heated oven (200-210c) for about 13-20 minutes OR until lightly brown. Watch sides carefully, there's tendency for it to burn slightly. But to ensure crispiness, wait till it reaches a "lightly browned" hue overall.
6. Cool slice in pan. Invert and let cool completely before slicing.