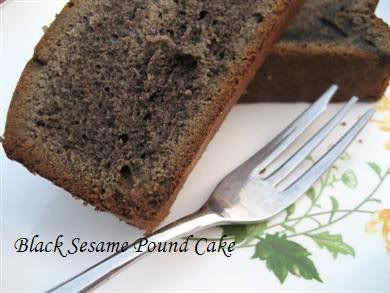 It has been said that this cake "
looks like concrete but melts in your mouth",
to which I strongly agree.
Aesthetic wise, nothing much to say. After all, how else can you describe a block of absolute blackness? But texture wise, it is
meltingly soft
with a taste accentuated by the
nutty taste of black sesame
.
Black Sesame Pound Cake
· 150g unsalted butter (softened)
· 175g cake flour
· ¾ tsp baking powder
· 170g sugar
· ¼ tsp salt
· 3 eggs
· 120ml low-fat or full-fat milk
· 1 tsp vanilla paste
· 4 - 6 tbsp black sesame paste (adjust according to your taste)
Method:
1. Preheat oven to 180c. Flour a chiffon cake tin. (If using square or round tin, line base).
2. Sift flour and baking powder into a bowl. Add sugar and salt to mix. Combine well.
3. Beat eggs, milk and vanilla in another bowl. Divide this mixture into 2.
4. Add butter, sesame paste and half of egg mixture to flour mixture. Beaton low speed until just combined (flour no longer visible). Increase speed to "medium" and beat another for 30 seconds.
5. Add remaining egg mixture in 2 batches, beating 15 seconds after each addition. Beat for 20 seconds more.
6. Pour batter into prepared tin and bake for 30-35mins OR until inserted toothpick come out moist but clean.
7. Cool cake on rack for 15mins, then remove from tin and cool completely on rack.