Hear, hear, the weekend is here. Time for another baking frenzy in the kitchen.
This time, I made
"three desserts and a dish".
Well, not exactly 3 desserts for one of them is a savoury snack but nevermind....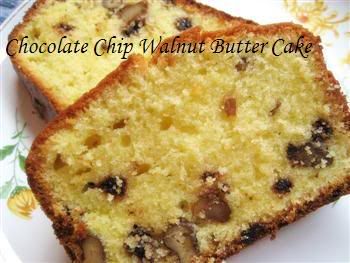 Forgot to dust the walnuts and choc chips with flour first, hence they tend to sink to the bottom of the cake.
Chocolate Chip & Walnut Butter Cake
Got an idea for this after tasting a similar one made by an ex-colleague. Sometimes, simple cakes like this really rocks!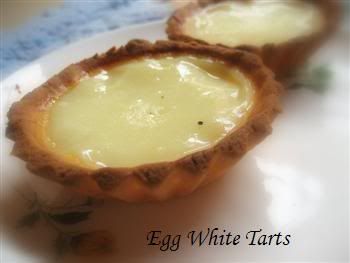 Overbaked the pie crust a little.
Instead of the usual Egg Tarts that I normally made, this time I attempted a "healthier" version (
Egg White Tarts
) using egg whites only and low-fat milk. I like this version a lot; they kind of reminded me of the smooth "tau-fu-fa" (
soybean pudding).
Silky smooth and milder in taste. But somehow, the kids prefer the normal version, with the yolks and other rich stuff although I didn't tell them about the change in recipe used. They seem to have a
in-built 6th sense
to repel any "healthy" food stuff given to them.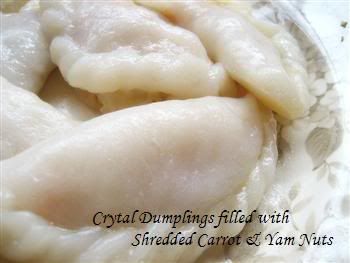 Asked my maid to wrap the dumpling and the next thing I know, she wrapped them into the shapes of curry puffs! LOL!
My SIL cooked copious amount of "pang kaun chai" (a shredded carrot and yam beans dish) to be made as popiah fillings. Previously, we talked about using this filling to be wrapped with crystal dumpling skin. Ta-da! We finally achieved what we planned -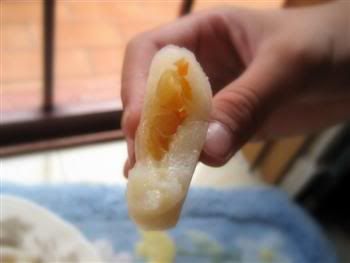 as modelled by my eldest nephew who in real-life loathes anything vegan. Sadly, this proved to be no exception either.
Crystal Dumplings filled with stir-fried shredded carrot, yam beans, dried shrimps and dried cuttlefish
.
Lastly, for a good dose of Omega-3, I also prepared this simple salmon dish -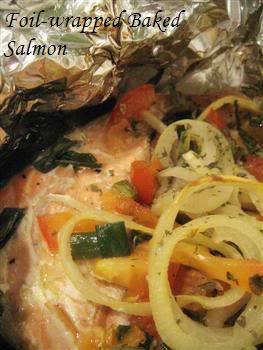 Foil-wrapped Baked Salmon
.
Simple dish with simple and healthy ingredients such as lemon juice, plump tomatoes, onions, spring onions and olive oil. Most importantly, it tastes
good!
That wraps up today's kitchen frenzy.