Two of my favourite cakes can be found at
Bon Bon Cafe
in Damansara Jaya. One is the infamous and seasonal
Durian Cream Cake
(
ooh.....)
and the other is the
Peanut Butter Coffee Cream Cake
. Truly delicious, I tell you.
So today, I tried to re-create the latter. Not that I didn't want to try to re-create the former but so far, any plans to make durian desserts had always failed; reason being the durians were all gone (
aka in my stomach
) before I could manage to use them for desserts...haha.
Anyway, what I did was to bake a coffee-flavoured sponge cake, sliced them into 2 and sandwiched them with some Peanut Butter Frosting (recipe found on the net). Now the Peanut Butter Frosting recipe that I used was one of those icing sugar frosting type. In others, it could be sickeningly sweet. So what I did was to reduce the amount of icing used and upped the quantity of peanut butter.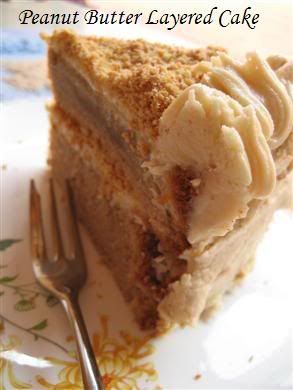 So was the result anywhere near the BB's version? Unfortunately, nope. The frosting was still far too sweet but it can be quite addictive for a sweet-toothed person. But next time I should probably use a buttercream type frosting. The sponge cake was ok but could use a little bit more coffee flavour.
Oh well, first try down and 2nd try to come about soon!