Lemon Poppy Seed butter cake is one of my all-time favourite recipe. Simple to make but elegant to taste. I also like adding poppy seeds to a moist banana cake, but with the addtion of lemon zest of course. To me, the combination of lemon and poppy seeds cannot go wrong, or so it seems.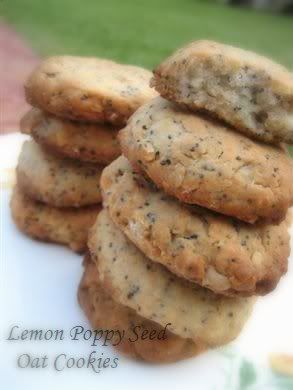 I tried to be creative today and give a twist to a rather simple but nice healthy oat cookies which I had
tried before
. This time, I added lemon oil and poppy seeds. During photography time, one of my nephew, Clement was excited and couldn't wait to try the cookies. So I gave him one. Then I asked him, "
Nice or not?"
to which he nodded his head while savouring the cookie, "Yummy! Tastes like KFC chicken
."
I nearly dropped the plate of cookies that I was holding. Now, I haven't tasted the cookie yet but I was like "
WTH???"
I mean, I haven't had my cookies being compared to a fried chicken before, have you? Nor would I want it too. So I took a bite.
Hmm
, strange that it may seem, but it does taste somewhat like
KFC chicken skin
(
haha
). These cookies are the crunchy and crispy type. The addition of poppy seeds upped the 'crunch' factor and also gave it a slight peppery taste while the lemon took a back seat. It is only after a couple of bites that you could taste a slight hint of lemon. Despite having it likened to the taste of a
KFC chicken skin
, I wouldn't call these cookies the savoury type. Crispy, crunchy, nutty, peppery, lemony - I definitely took a liking to them.