(To the tune of the song "My Boyfriend's Back")
My Bread Maker is back, and I'm gonna be so Happy..
Yep, it is finally back from the workshop (service center)! To much relief. No more hand-kneading and sweating buckets while worrying that the bread ain't gonna be soft enough.
To celebrate, I made
Mixed Fruit Plaits
based on the ever-trusty
Alex Goh's World of
Bread.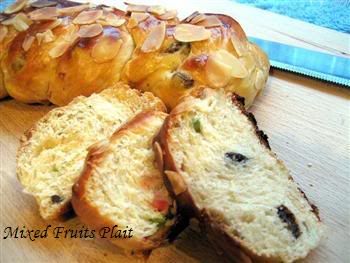 Based on original recipe in Alex Goh's World of Bread, adapted for bread machine
Ingredients:
250g bread flour
35g sugar
1/2t salt
10g skimmed milk powder
2t instant yeast
1 egg (slightly beaten)
100ml cold water
30g unsalted butter, softened
120g dried mixed fruits mixed with 1
/4t cinnamon powder
Almond flakes and egg wash
Method:
1. Dump everything into the bread machine pan except mixed fuits and almond flakes according to the order recommnended by your bread machine manual.
2. Set it to "Dough" function. At the first beep, add in the mixed fruits.
3. When it is done, turn the dough to a lightly floured surface. Divide them into 6 equal parts and shape them into balls. Rest for 10 mins.
4. Roll into 6 long strips, about 30cm each. Plait 3 strips together to form 2 braids. Tuck the ends under.
5. Cover with clean damp cloth and let rise till double in size (apx. 45 mins).
6. Brush top with egg wash and sprinkle almond flakes on top.
7. Baked in pre-heated over at 180c for about 15-20 mins (watch). Remove and let cool completely on wire rack.