Yup, line your pans people. Especially when baking slices. Do not take chances (or be lazy) like me. Although the recipe did not ask for this step, I have baked enough to know that it is best to line the pans when baking slices and squares. Especially when no or little fat is involved.
Alas, I didn't. And as a result, my lovely lemon curd on walnut crust stuck to the bottom of the pan. Like glue. I guess the instruction to "let it cool in pan" gave it plenty of time to adhere itself like a 2nd skin to the pan. I spent a good 20 minutes trying to pry it up from the pan. A task similar to Cinderella's step sisters trying on the glass shoe aka impossible! If I hadn't tasted the
"oh-so-fine-tasting"
lemon curd, I would have abandoned the attempt altogether.
So, for my hard work, I got these. Out of the entire square, I managed to save 3 'ok-looking' slices.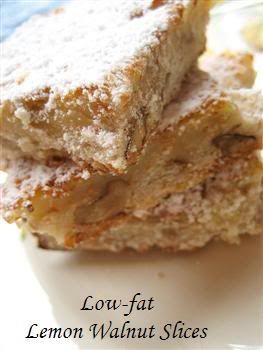 Click for original recipe
The rest? In my stomach…
And somewhere along the way, I also baked a
Mixed Berries Yoghurt Bread
with
Blue Poppy Seeds.
Coincidentally, like the lemon slice, it contains no fat too.